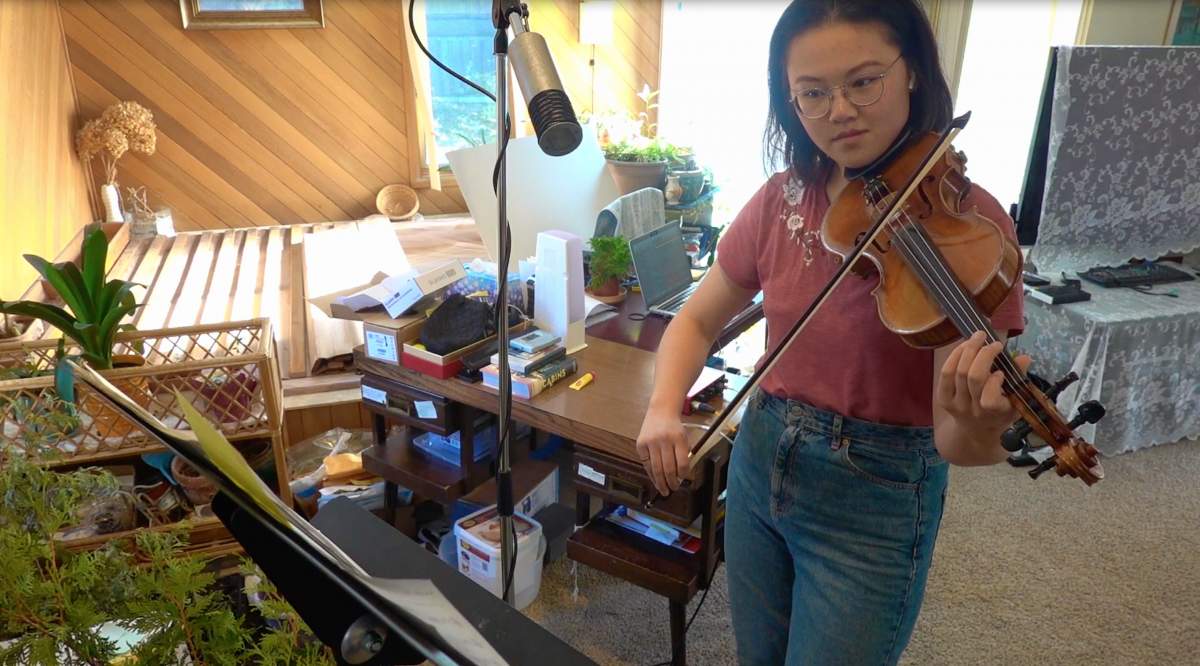 Skule Nite™ is the University of Toronto Engineering's sketch comedy show, written and produced entirely by students. This year marks the 100th anniversary of the show, made especially unique being completely performed online (click here to watch the full show).
Three MSE students took part in making the show a reality, second-year student, Amanda Morelli (social media & outreach), third-year student, Alyson Allen (assistant props), and violinist Yilin Huang (Year 4).
Without being able to rehearse and practice together, band members recorded their individual parts to the same click track, with each musician's parts then layered together to create the effect of the entire band playing together.
Huang, who has been playing the violin since she was four years old, has had plenty of notable musical experiences. Raised in London, Ont., she played in the London Youth Orchestra for more than six years, before moving to Toronto for her studies, where she joined the Hart House Orchestra. In her first season with them she joined the orchestra as they performed in New York City's Carnegie Hall. Huang describes it as a "surreal opportunity to play on that stage."
Even with her musical background, preparing and playing in Skule Nite™ virtually was a new experience. "Having it sound like you're playing in-time together online is already difficult, but playing together with the same feeling and energy is much harder when you're recording on your own to a click track," says Huang.
She says the experience showed her the significant effort and coordination ​necessary to put on a virtual production, and applauds the Skule Nite™ 2T1 team for overcoming challenges to produce this year's 100th show.
After graduation, Huang will pursue a master's in science, technology and policy at ETH Zürich in Switzerland. She plans to join a musical ensemble there.