Student research win three of five prizes at the annual ASM Student Poster Night
[sharexy]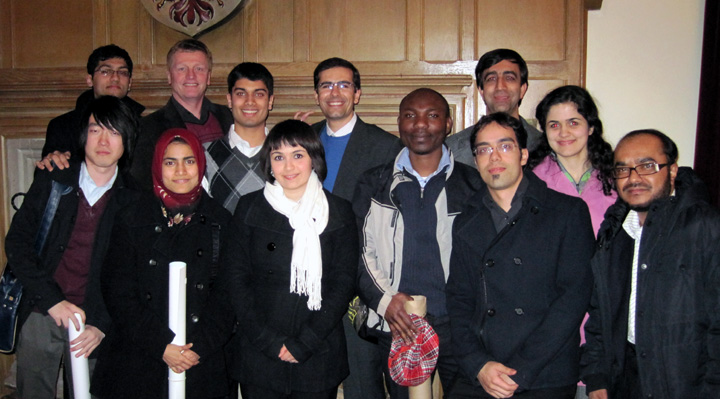 U of T Materials Science & Engineering (MSE) delegation at the 2010 ASM Student Poster Night held at McMaster University this year
March 11, 2010
MSE students swept up three of five prizes awarded at the annual American Society of Materials (ASM International) Student Poster Competition held at McMaster University on March 10, 2010. The three awardees included Allister Lobo (MSE 1T0 | back row, 3rd from left), 1st Place – Undergraduate Division, Erfan Sharifi (MASc Candidate | front row, 2nd from right), 2nd Place – Graduate Division, and Sadique Sarder (MASc Candidate | front row, 1st from right), 3rd Place – Graduate Division.
ASM International is a professional society designed to serve professionals in the Materials Science and Engineering discipline. ASM International provides authoritative information and knowledge on materials and processes, from the structural to the nanoscale for its 36,000 members worldwide. ASM Poster Night is a competition held annually for both undergraduate and graduate level students. The venue alternates between the respective departments of Materials Science and Engineering at McMaster University and the University of Toronto.
A special thanks to Mishaal Azhar (MSE 1T0), Chair – U of T Material Advantage Student Chapter who "did an excellent job in organizing everything," said Assistant Professor Mansoor Barati, who was one of three professors and 12 MSE students forming the U of T delegation.