Professor Glenn Hibbard and PhD candidate Hai Jun Cho win 2015 MSE Impact Student Choice Awards
[sharexy]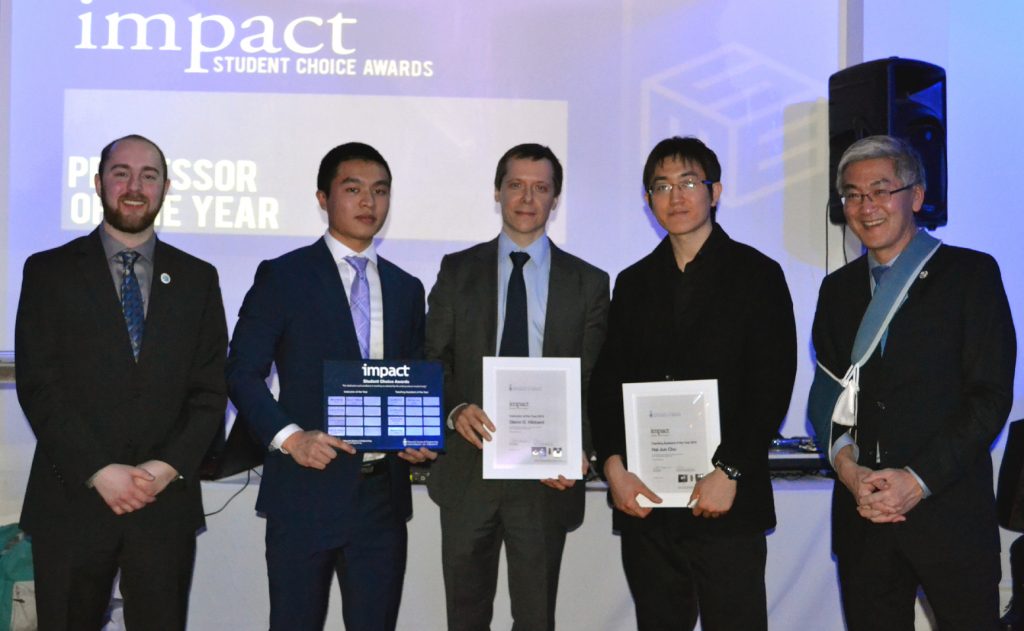 From left: MSE Club vice-chair Bryan J. and chair Vinson T., present 2015 Impact Student Choice Awards to Associate Professor Glenn Hibbard and PhD candidate Hai Jun Cho with Professor Jun Nogami, Chair
February 3, 2015
Congratulations to Associate Professor Glenn D. Hibbard (MSE PhD 0T2) and PhD candidate Hai Jun Cho for being voted the 2015 Materials Science & Engineering (MSE) Impact Student Choice Awards—Instructor and Teaching Assistant (TA) of the Year, respectively. This is the second consecutive win for Professor Hibbard in the Instructor category and a first-time win for Cho.
For dedication and excellence in teaching as selected by the undergraduate student body—MSE Impact Student Choice Awards
Presented on Saturday, January 31, 2015 at The Bucky Ball—the annual MSE undergraduate dinner dance—the Impact Student Choice Awards recognizes a MSE course instructor and teaching assistant for teaching excellence as voted by the undergraduate student body. All course instructors and graduate students who have taught a MSE course for MSE undergraduate students in the previous calendar year are eligible candidates.
During the 2014 calendar year, Associate Professor Glenn Hibbard, who is also the department's associate chair of undergraduate studies, served as the course instructor for MSE 245—Organic Materials Chemistry & Properties, MSE 318—Phase Transformations and MSE 498—Design & Research Project. Professors Steven Thorpe and Zhirui Wang were named the runner-ups in the same category for their respective instruction of MSE 315—Environmental Degradation of Materials, MSE 558—Nanotechnology in Alternative Energy Systems (Thorpe) and MSE 316—Mechanical Behaviour of Materials and MSE 419—Fracture & Failure Analysis (Wang).
Cho, a PhD candidate in Professor Uwe Erb's Nanomaterials Research Group served as the teaching assistant for MSE 235—Materials Physics as well as MSE 342—Nanomaterials. The runner up in the TA category was MASc candidate David Wisniewski from Professor Harry Ruda's Centre for Advanced Nanotechnology for his instruction in MSE 219—Structure & Characterization of Materials as well as MSE 235—Materials Physics.
"Congratulations to both Glenn, Hai Jun and all of the runner-ups," said Jun Nogami, Professor & Chair. "It is great to see excellent teaching recognized, and the fact that it is the students that pick the winners makes these awards that much more special."
---
Past recipients—MSE Impact Student Choice Awards
Instructor of the Year
Teaching Assistant of the Year
2015
Glenn D. Hibbard, Associate Professor
Hai Jun Cho, PhD Candidate
2014
Glenn D. Hibbard, Associate Professor
Matthew Daly, PhD Candidate
2013
Scott D. Ramsay, Adjunct Professor
Matthew Daly, PhD Candidate
Paul Wu, PhD Candidate
2012
Scott D. Ramsay, Adjunct Professor
Leo Monaco, PhD Candidate
2011
Zhirui Wang, Professor
Leo Monaco, MASc Candidate