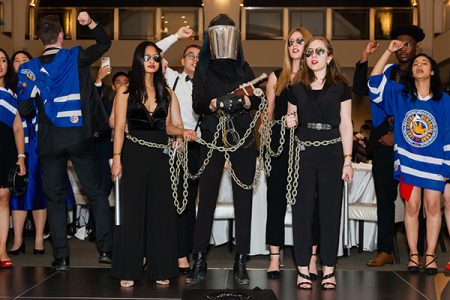 U of T Engineering is steeped in tradition, and reciting "Godiva's Hymn" is a core  Skule™ ritual. In recent years, U of T Engineering students have penned new verses to better reflect the rich diversity of the community.
The Godiva's Hymn contest, held by U of T's Engineering Society (EngSoc), encourages students to contribute verses that echo the spirit of the 21st-century engineer. The 2018 winners were announced at Cannonball, an annual semi-formal dinner hosted by EngSoc, on Jan. 13.
"Just as engineers are taught to iterate over solutions, our U of T Engineering community is continuously adapting to reflect the values of the engineers within it," says Jonathan Swyers (Year 4 CompE), EngSoc president. "'Godiva's Hymn' is an integral component to Skule™, sung at numerous events throughout the year. Having the creativity and ideas of current students reflected in its verses emphasizes the importance of building a community where everyone feels welcome."
Mackenzie Seward (Year 1 EngSci), one of this year's winners, was first introduced to "Godiva's Hymn" during Orientation Week.
"The opportunity to create a verse that future engineers might sing during their Frosh Week was something that I couldn't pass up," she says.
"It's very inspiring to think that my words have become part of a tradition in such a storied and venerable Faculty," says Calvin Huynh (Year 2 MSE), another of this year's winners.
This year's winning verses are:
At Frosh Week Does It All Begin, With Cheers And Purple Dye
And Then Before We Know It We've Returned From PEY
We Made It Through The Many Years With Blood And Sweat And Tears
Though Time May Pass We Shan't Forget – I Am An Engineer!
– Calvin Huynh (Year 2 MSE)
Among The Great Traditions That Our Dearest Skule Does Hold,
There Is One In Particular That Is Quite Small But Bold.
The Cannon When It Blows It Does Make Such A Mighty Clatter,
Thus The Moral Of The Story Is That Size Doesn't Always Matter!
– Eden Gough (Year 3 MechE)
"Who Are, Who Are, Who Are," You Ask, "Those People Over There?
In Blue Hardhats And Sunglasses, I Just Can't Help But Stare."
We'll Tell You, "They Bring Spirit Up, Through Pranks And Switcharoos"
But Mention Them Again To Us, And We'll Respond With "Who"?
– Mackenzie Seward (Year 1 EngSci)
By Jamie Hunter: U of T Engineering News