"Get involved, take risks, be committed" — MSE alumnus Damian Durlik recognized by the University of Toronto for exemplary leadership and spirit of volunteerism
[sharexy]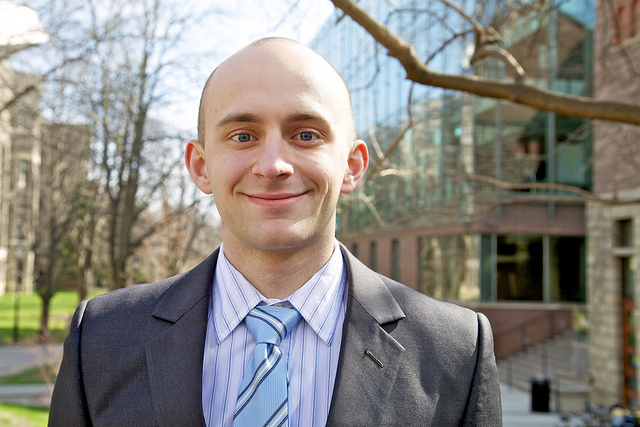 Damian Durlik, MSE 1T0+PEY, MEng 1T2
April 5, 2012
On March 27, 2012, the University of Toronto recognized Damian Durlik (MSE 1T0+PEY, MEng 1T2) with a 2012 Gordon Cressy Student Leadership Award. Established in 1994 and named after Mr. Gordon Cressy, former U of T vice-president of development & university relations, these annual awards recognize students in their graduating year who have made outstanding extra-curricular contributions to their Alma Mater.
Mr. Durlik's motto of "getting involved, taking risks, and being committed" is exemplified by his many activities, including Ombudsman for the Engineering Society, co-editor of the Frosh Handbook, event planner for Orientation (Frosh) Week, and as a paddler and coach of the Iron Dragons, the U of T Engineering dragonboat team. Durlik was also a strong supporter, advocate, and participant of the Graditude 1T1 program, leading by example to enhance student life in the Department of Materials Science & Engineering.
"I'm impressed by the way that Damian was able to balance academic success with significant involvement in extracurricular activities, says Professor Jun Nogami, Chair. "It is great to see his contributions to the Faculty recognized in this way."
Durlik's contributions, along with 16 other graduating students from the Faculty of Applied Science & Engineering, and together with awardees from across the institution, were celebrated in the Varsity Centre Dome on Tuesday, March 27 as presided by U of T president David Naylor, U of T Alumni Association (UTAA) president Matt Chapman, former vice-president of development & university relations Gordon Cressy, and assistant vice-president of alumni relations Barbara Dick.