PhD candidate Kitty Kumar's research comes out on top among fierce competition at high-impact photovoltaic specialists conference in Austin, Texas
[sharexy]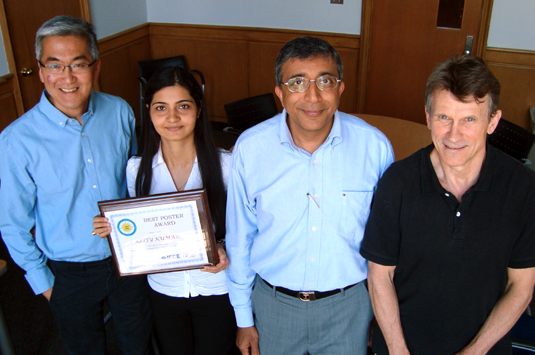 Photo: PhD candidate Kitty Kumar (centre-left) with research supervisors (from left) Professor Jun Nogami (Chair, MSE), Associate Professor Nazir P. Kherani (ECE/MSE), and Professor Peter Herman (ECE)
June 13, 2012
Congratulations to Materials Science & Engineering (MSE) PhD candidate Kitty Kumar for receiving the Best Poster Award at the 38th annual IEEE Photovoltaic Specialists Conference (PVSC), held in Austin, Texas. Held on June 3-8, 2012, the annual IEEE-PVSC is one of the top technical events for photovoltaic scientists and engineers around the world. Kumar's award recognized her world-class research as the best among 900+ other poster presentations from candidates around the globe.
Supervised by Professor Jun Nogami (Chair, MSE), Associate Professor Nazir P. Kherani (ECE/MSE), and Professor Peter R. Herman (ECE), Kumar's work, titled "Ultra-Fast Laser Direct Hard-Mask Writing for High-Performance Inverted-Pyramidal Texturing of Silicon," addresses the capability to maximize light absorption in crystalline silicon (c-Si) – the primary material found in commercial photovoltaics.
In her award-winning research, Kumar demonstrates a novel method of using high-resolution laser writing on thin-wafers of c-Si to enable a unique chemical etching process, lending to a nano-scale surface structure that drastically reduces light deflection over an unprecedented range.
"I'm particularly excited about these results as they are directly relevant to energy and sustainability, which are two major themes areas for the Department of Materials Science & Engineering," says Professor Nogami. "It has been very rewarding to pursue this collaboration with both professors Kherani and Herman. This project shows how interdisciplinary collaboration within the Faculty of Applied Science & Engineering enables us to expand our expertise beyond what might have been achieved by each of our groups individually."
Kumar also received 3rd Place in the research talk competition at the NSERC Photovoltaic Innovation Network, Next Generation Solar conference, held on May 14 and 15, 2012, in Montréal, Quebec, for similar research work.