MASc candidate Nelson To wins best poster prize at the 2012 International Conference of Scanned Probe Microscopy (STM '12)
[sharexy]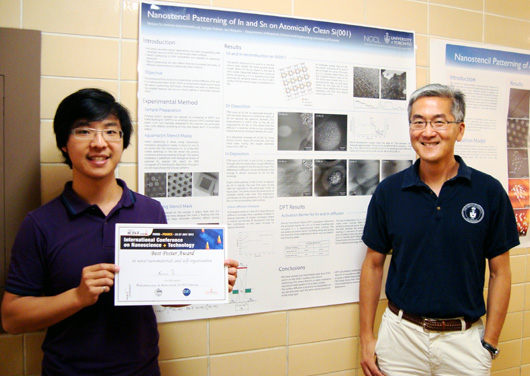 Photo: recent alumnus Nelson To (MSE 0T8, MASc 1T1, left) with MASc supervisor Professor Jun Nogami (Chair) in front of his award-winning research poster
July 31, 2012
Congratulations to recent alumnus Nelson To (MSE 0T8, MASc 1T1), for receiving a Best Poster Award in the area of Novel Nanomaterials & Self-Organization at the International Conference on Nanoscience & Technology (ICN+T).
Held in Paris, France from July 23-27, 2012, the ICN+T is held every two years and is a leading international nanotechnology conference. It was held jointly with the International Conference on Scanned Probe Microscopy (STM '12) this year.
To's work, titled "Nanostenciling of metals on the Si(001) surface" explores the possibility of using stencils to make nano-scale patterns on atomically clean surfaces, something that is not possible with conventional lithography.
"I am very excited about Nelson's work, as it both pushes the physical limits of what is possible from a technological standpoint, and concurrently helps us understand how atoms behave on surfaces at a fundamental level," says Professor Jun Nogami, Chair, and To's MASc supervisor. "It has also been great to watch this work develop out of a project that Nelson first started as an undergraduate research student in my lab."
To was also recognized for his work on nano-stenciling at the Surface Canada Conference in Vancouver last summer, where he won the prestigious Jean Denis Carrette prize for best student poster.
Photo: a scanning tunneling microscope (STM) image showing the edge of a nano-dot with atomic resolution. The amount of deposited metal increases from lower left to upper right.