U of T Materials Science & Engineering marks International Women's Day
[sharexy]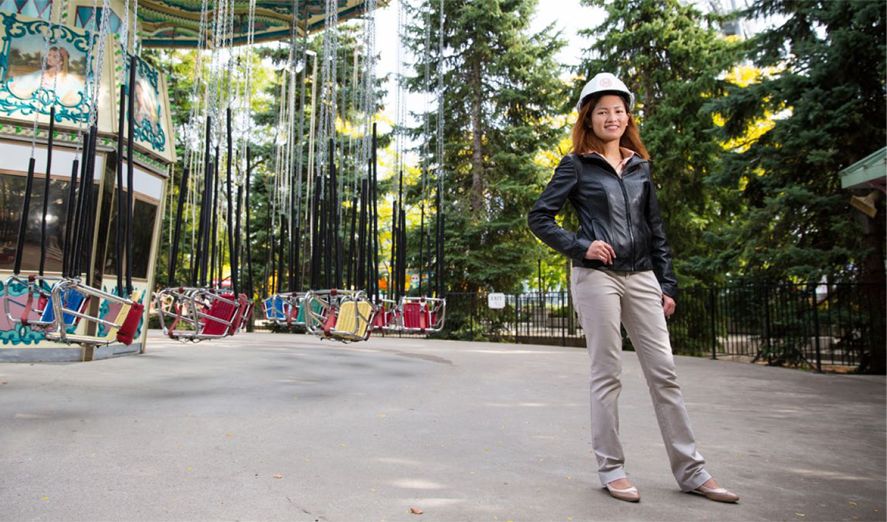 Alumna Joelle Javier—Technical Standards & Safety Authority (TSSA) device review associate photographed at Canada's Wonderland for Impact Vol III, 2015
March 6, 2015
Leading up to International Women's Day on Sunday, March 8, U of T Engineering is celebrating some of our remarkable female alumni, students and faculty. These women are inspirational role models who are "making it happen" in engineering and beyond.
---
Parisa Najafi
Materials Engineering Undergraduate Student, Year 3 (MSE 1T6)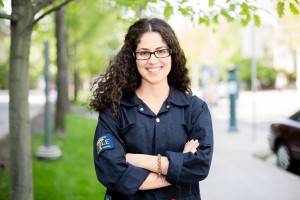 While in her first year, materials science and engineering student Parisa Najafi was tasked with discovering why ice affects similar trees differently. As she examined the microscopic structures of birch and quaking aspen, Najafi developed a fascination of the natural world that has informed her education ever since.
"Nature makes the best classroom," she said. "It's hands-on, it's dynamic, and its designs are usually more elegant and efficient than our own. Lucky for us, nature hasn't patented anything yet."
Inspired by her environment, Najafi, now in her third year of studies, pursued an opportunity as a research associate with nanOntario, an outreach program aimed at teaching high school students about bio-inspired technologies. The program brings nature into the classroom as both a teaching tool and an inspiration for students.
"We have the responsibility as engineers to think critically about these issues because we have the skills to innovate and drive positive change."
Keryn Lian, Associate Professor
Engineering the wearable battery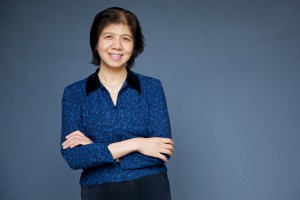 When Keryn Lian was working for Motorola, she had a nagging sense that cell phone batteries had serious deficiencies—and that she should develop a better source of energy.
Fast forward 12 years and the associate professor in the Department of Materials Science & Engineering has scoped out a niche area of research: developing an energy storage device that is more powerful, smaller, lighter, safer and more flexible than a regular battery.
The key difference is the type of capacitor that is used to help the device charge and store energy. In regular capacitors, the electrolyte that enables the flow of electrical energy is a liquid; in Lian's device, it is a solid.
Lian's solid electrochemical capacitor has myriad advantages over other similar energy storage devices. For one, there is no worry of fluid leaking and possibly causing corrosion or fire. Another advantage is that it does not have to be encased in a container, so it can be smaller, lighter and bendable.
These properties open up entirely new uses in the everyday world, she says, including applications for the growing printed electronics and "wearables" industry where the device can be attached to clothes and accessories like watches.
"The wearables industry is getting much bigger now in the area of senior care for example," she says. "They all need power, and hopefully it is seamless to them so that it is contained in a device but attached to something that is comfortable, like clothing."
Lian's Flexible Energy and Electronics Laboratory is also working on combining the energy storage device with energy-generating solar cells to form a "self-powered" energy system.
Solar cells can't store energy, so when the sun goes into hiding, the cells can't generate more electricity. Lian's battery can be attached to solar cells, so that when these cells capture energy from the sun, they can charge the battery.
The end result is an extremely clean, renewable source of energy with almost unlimited potential.
Alumnae Katherine Allan and Joelle Javier
Meet the engineers who are keeping us safe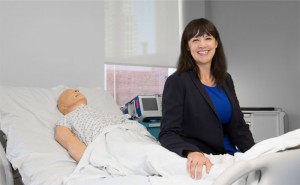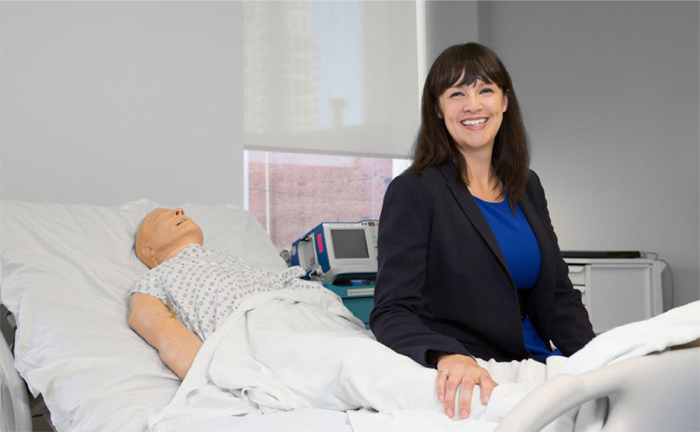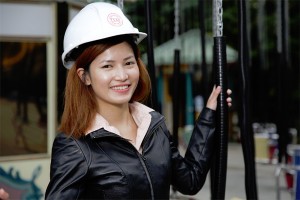 Alumnae Katherine Allan (left)—clinical research coordinator at St. Michael's Hospital and Joelle Javier (right)—device review associate for the TSSA
Katherine Allan (MSE 0T2, MASc 0T5) and Joelle Javier's (MSE 1T0) careers are about you. Meet the engineers whose jobs are to mitigate risks and help keep the public safe in the feature story For Your Safety published in the recently released issue of Impact magazine.
---
—With files from U of T Engineering Strategic Communications