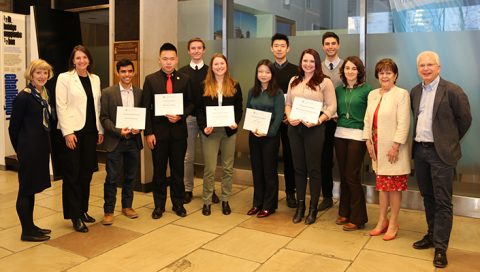 From varsity track stars to aerospace team leaders, 10 remarkable undergraduate students were honoured by the Ontario Professional Engineers Foundation for Education (OPEFE) for excelling both within and beyond the classroom.
Scholarships totalling $15,000 were presented to students at a reception held in U of T's Galbraith Building on March 19.
"It's an honour to present the OPEFE scholarships to a group of students who are both academically accomplished and leaders in extracurricular programs," said Marisa Sterling (ChemE 9T1), P.Eng., president of OPEFE. "A $1,500 award can go a long way. I see the scholarship as the equivalent of what students would be paid at a minimum-wage part-time job — freeing up their time to focus on innovations and technology that will impact society."
Professional Engineers Ontario (PEO) established OPEFE in 1959 and it remains one of U of T Engineering's longest-running partnerships. OPEFE's scholarships are funded by contributions from professional engineers across the province and in-kind support from organizations such as PEO and the Ontario Society of Professional Engineers.
Several students expressed gratitude for the generosity of those who came before them.
"University is a really stressful time — and I always thought that I would have to work a part-time job while studying," said Molly Gorman (Year 3 ChemE + PEY), one of the 10 scholarship recipients. "But I quickly realized that wasn't a possibility. Awards like the OPEFE scholarship have allowed me to grow so much as a person, and in my spare time to take on leadership roles and truly discover why I enrolled in engineering in the first place."
OPEFE 2018 scholarship recipients
Joshua Ilse (Year 3 MSE + PEY)
Ilse is a third-year student in the Department of Materials Science & Engineering (MSE), minoring in biomedical engineering. He recently finished a term as the composite structures lead for the University of Toronto Human-Powered Vehicles Design Team where he worked on their latest human-powered speed bike. He also serves as the communications director for the MSE Club, where he is in charge of the organization, distribution and dissemination of important information to the MSE student body.
Having recently secured his PEY Co-op with the National Research Council of Canada as a composites intern, he is eager to begin work this coming summer.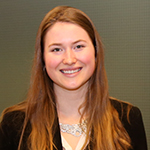 Lia Codrington (Year 3 EngSci)
Codrington is a third-year student in the Division of Engineering Science specializing in infrastructure engineering. She is passionate about sustainable housing, global development and running. She is currently the communications lead for Blues Engineering, a program that aims to provide support for engineering student-athletes. This summer, she will be working at Ashesi University's design lab in Accra, Ghana, as part of the Engineers Without Borders Junior Fellowship program.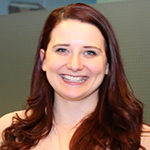 Molly Gorman (Year 3 ChemE + PEY)
Gorman is completing her Professional Experience Year (PEY) Co-op at Procter & Gamble working on an international team in the IT innovation field. She will return to U of T in September 2018 to complete her fourth and final year of studies in the Department of Chemical Engineering & Applied Chemistry.
Throughout her PEY Co-op, she remained heavily involved in the U of T Engineering community, serving as the vice-chair: finance for U of T Engineering's Orientation Week, working to make orientation more accessible to incoming students. Gorman also held an executive role with the University of Toronto Concrete Toboggan Design Team, leading a small team to design and fabricate the technical exhibition of the toboggan, winning second place in this category at the Canadian National Concrete Canoe Competition in Waterloo.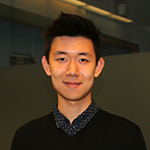 Ming Da (Tim) Li (Year 3 CompE + PEY)
Li is a third-year student in The Edward S. Rogers Sr. Department of Electrical & Computer Engineering. Last summer, he conducted research as a NSERC Undergraduate Student Research Award recipient on the topics of cloud data centres and virtual machine placement. His work was accepted by the IEEE International Conference on Cloud Engineering 2018 as a research publication. Outside of his studies, he is on the UAV sub-team for University of Toronto Aerospace Team and enjoys playing intramural basketball. In May, he will begin his PEY Co-op at Oracle Marketing Cloud (Eloqua).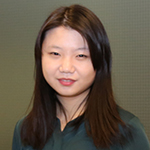 Selena (Shi Ting) Lu (Year 3 IndE + PEY)
Lu is a third-year student in the Department of Mechanical & Industrial Engineering who is minoring in business. Since her second year, she has been actively involved with the WISE U of T Chapter as conference events director and the Sustainable Engineers Association (SEA), where she worked on organizing the flagship annual sustainability conference and spearheading the first sustainability-themed career fair at U of T.
Starting this summer, she will be working at The Poirier Group as a consultant for her PEY Co-op. In the future, she wants to explore the intersection between business and technology to make a positive impact on society.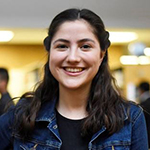 Jacqueline McLean (Year 1 TrackOne)
McLean is a first-year TrackOne student. She intends to pursue chemical engineering for her second year of study. She is interested in minoring in biomedical engineering. She hopes to help further the current area of research surrounding regenerative medicine in pursuit of her passion of improving the lives and wellbeing of individuals through better medical treatment.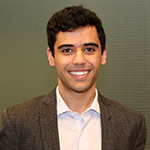 Alireza Nickooie (Year 3 CompE + PEY)
Nickooie is finishing his third year in ECE. An enthusiast in the fields of machine learning and artificial intelligence, he spent last summer as an NSERC research student, studying and improving hardware implementations of machine learning models. Aside from his work, he is also the managing director of the Startup Team within You're Next Career Network, which ran the largest Startup Career Expo in Canada for the third year in a row. Next year, he will spend his PEY Co-op at Intel and hopes to continue his career in the field of machine learning.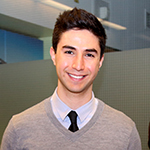 Mahan Salehi (Year 3 MechE + PEY)
As a third-year MIE student specializing in mechatronics and biomedical engineering, Salehi has always had a passion and desire to make a meaningful impact on the lives of others. On campus, he is heavily involved with the You're Next Career Network (YNCN) — a student organization that provides professional career development services and organizes events such resume hackathons, entrepreneurship competitions and some of the largest career fairs in Canada. He was a member of the Startup Team in 2016, and this past year he took over as the managing director of the Student Development team on YNCN. He was also an executive member of the University of Toronto Robotics Association, where he mentored and taught students across the Faculty on building autonomous sumo-wrestling robots. Last year, he was involved in an eight-month social innovation competition with the Institute for Leadership Education in Engineering, where he worked with four peers to develop a solution that enables homeowners to reduce their daily energy consumption. Outside of the classroom, he is dedicated to becoming an entrepreneur, and spent last summer working on creating a startup The Entrepreneurship Hatchery. Starting in May, Salehi will be commencing his PEY Co-op at Conavi Medical, a medical devices startup that focuses on building ultrasound catheters for guiding cardiovascular surgeries.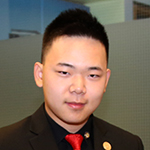 Shaoheng (Shellen) Wang (Year 1 ElecE)
Wang is a first-year ECE student. In addition to studying engineering, he is also a magician, music composer, pianist, creative photographer, motivation speaker and table tennis player.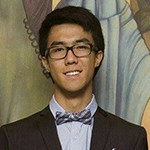 Shi Qi (William) Wang (Year 2 CivMin)
Wang is a second-year student in the Department of Civil & Mineral Engineering interested in structural and sustainable design. Last summer, he aided graduate students with research in the structural lab on testing alternative concrete materials.
His extracurricular commitments include Bridges to Prosperity, where, as the events manager, he works to develop and plan awareness events, as well as playing jazz guitar in Skule™ Stage Band, Jazz Combo, and the Skule™ Nite Pit Orchestra. This summer, Wang plans to earn industry experience during a summer internship at a structural engineering consulting firm.
By Jamie Hunter for U of T Engineering News