Andrew Forde establishes Polymath Award to support student academic excellence and active involvement in the Afro-Caribbean community
[sharexy]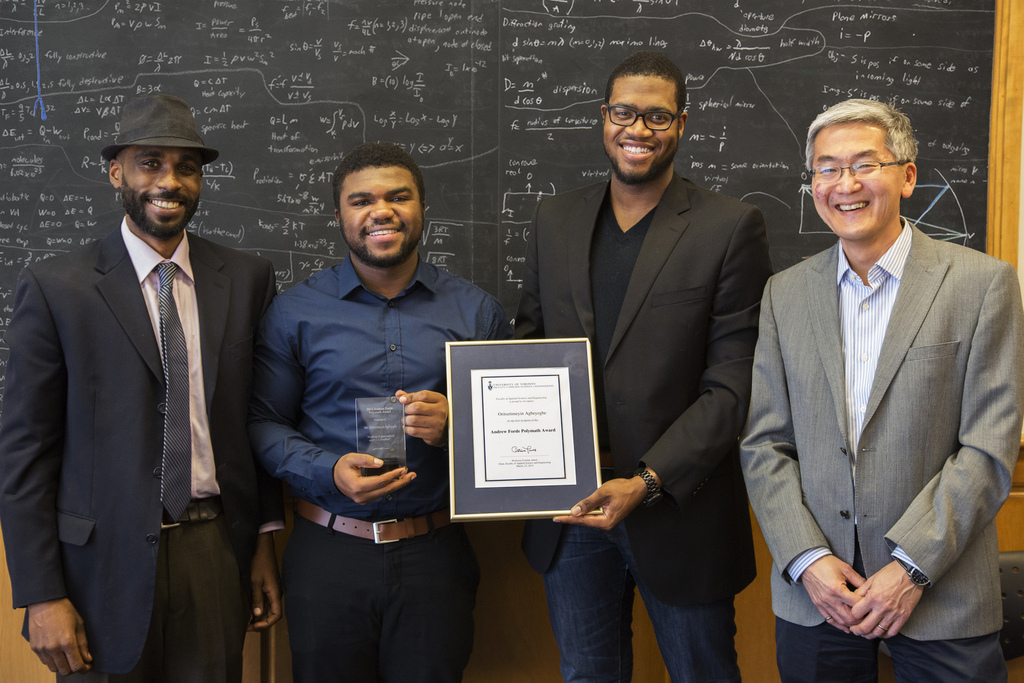 Photo (L to R): Phoenix BlueMobility CEO Kolden Simmonds, inaugural award recipient Oti Agbeyegbe (IndE 1T5+PEY), Andrew Forde (MSE 1T1), and MSE department chair, Professor Jun Nogami
May 29, 2013
Though it's only been two years since Andrew Forde (MSE 1T1) completed his undergraduate degree in materials engineering at U of T, he has already established a scholarship to support other promising engineers. He hopes to find new ways of sharing scholarship opportunities like these through a partnership with mobile app development company Phoenix BlueMobility.
For the next five years, the Andrew Forde Polymath Award will provide financial assistance to an undergraduate engineering student who excels in multiple areas of life beyond academics and is actively engaged in helping to strengthen the Afro-Caribbean community.
The inaugural award was presented to Oritsetimeyin "Oti" Agbeyegbe (IndE 1T5+PEY) at a luncheon on March 22. Agbeyegbe was selected for his strong academic performance and his involvement in the U of T Chapter of the National Society of Black Engineers, where he led several initiatives as the pre-collegiate chair. He is currently serving his Professional Experience Year at BlackBerry in Waterloo and plans to pursue a career in software development.
"It's very admirable for Andrew to set up an award like this," says Professor Jun Nogami, Chair of the Department of Materials Science & Engineering. "He is demonstrating his leadership at such an early stage in his career, and I really appreciate that."
Forde is currently president and CEO of Sommerlink Corporation and was the 2012 recipient of the Harry Jerome Young Entrepreneur Award from the Black Business & Professional Association.