Dr. Gino Palumbo honoured with U of T Arbor Award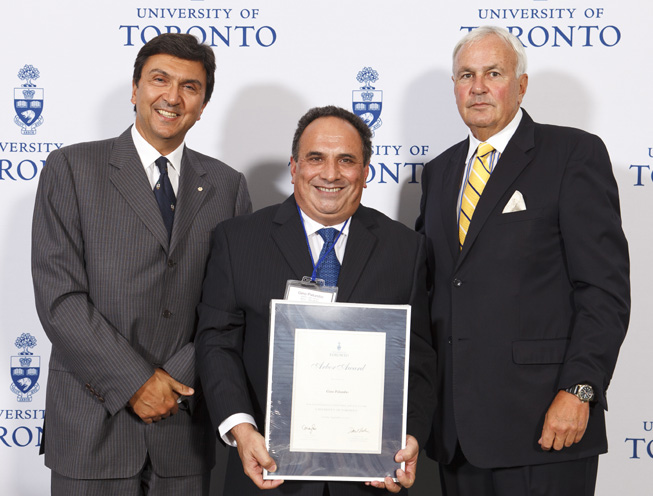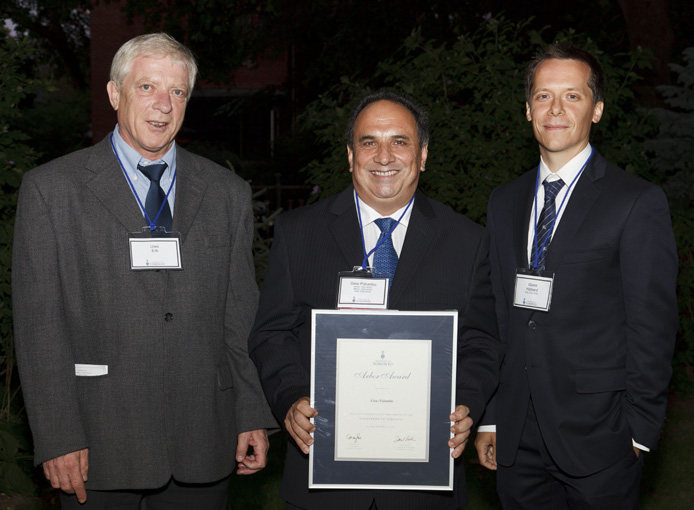 Photo (left; from left): U of T president David Naylor, alumnus Dr. Gino Palumbo, and U of T chancellor David Peterson
Photo (right; from left): Professor Uwe Erb, alumnus Dr. Gino Palumbo, Associate Professor Glenn Hibbard
October 21, 2011
Each year, the University of Toronto acknowledges alumni and friends who have contributed to the well-being of the institution through volunteer service with the Arbor Awards. This fall, MSE alumnus Dr. Gino Palumbo (MMS 8T3, MASc 8T5, PhD 8T9) was recognized by U of T President David Naylor for his efforts in supporting students and fellow alumni. His citation reads as follows:
"Dr. Gino Palumbo is an alumnus, and a dedicated volunteer, advocate, and ambassador for the University of Toronto. As President & CEO of Integran Technologies Inc., an advanced nanotechnology company founded based on research developed within the Faculty of Applied Science & Engineering, Dr. Palumbo has championed the U of T brand through multiple collaborative industry initiatives and research publications. He has actively participated in a number of student career development workshops and speaker series, and continuously advocates the employment of U of T students and alumni within Integran and to industry at large. Today, Dr. Palumbo continues to advise senior administration at U of T on a number of topics in relation to student development and research opportunities between industry and the University."
"On behalf of the Faculty of Applied Science & Engineering, I would like to extend my deep thanks to our many alumni who offer their time and expertise to benefit our students and support our Faculty," said Dean Cristina Amon. "We greatly value their contributions, and we can all take pride in the recognition they have received through the Arbor Awards."
Dr. Palumbo was one of 11 alumni from the Faculty of Applied Science & Engineering recognized by President Naylor on September 13, 2011 at the presidential residence on Highland Drive.