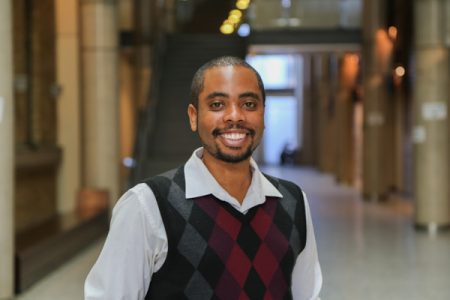 Mikhail Burke (MSE 1T2, IBBME PhD 1T8) was appointed to the role of Dean's Advisor on Black Inclusivity Initiatives and Student Inclusion & Transition Mentor at U of T Engineering. As a student, he was instrumental in founding the ENGage outreach program and served as president of the National Society of Black Engineers' U of T chapter. Burke recently defended his PhD thesis at the Institute for Biomaterials & Biomedical Engineering. In his thesis, he drew on his background in materials science and engineering to study how cancer affects bone tissue.
Tyler Irving spoke with Burke to learn more about his experiences as a student and his vision for the new role.
Why did you choose U of T Engineering?
When I was in high school, I wasn't too sure what I wanted to do. Engineering seemed like a good springboard — it was engaging, challenging and enabled me to develop critical thinking, but it was flexible enough that I could apply it to any field.
As for U of T, my mother had been a lecturer at New College, teaching courses on women and the law. I remember sitting in the corner while she was teaching a class. So I had a long history with the institution.
As a kid, I also went to SciCamp, a forerunner of today's Engineering Outreach programs like DEEP Summer Academy and Jr. DEEP. That really cemented the idea that I wanted to go into a STEM field.
Tell me about your own work with the Engineering Outreach office.
In 2010, I was president of the U of T chapter of the National Society of Black Engineers (NSBE). Along with some fellow students, I approached the Engineering Outreach office about setting up a science, engineering and leadership camp aimed primarily at Black students. The result was ENGage, which has been a part of their programming ever since.
I saw the value that SciCamp had for me, so I wanted to help stimulate that same interest in STEM for other students. I feel that there is a large group of people who, due to certain systemic barriers, feel like they shouldn't be interested in STEM.
What are some of the barriers you see?
For me, representation means a lot. As a student, you do notice when you're the only person "like you" in a class. The lack of representation often creates a negative feedback loop limiting future representation.
Additionally, when students of certain ethnic backgrounds do enter the Faculty, there can be a lack of integration into the U of T Engineering community. This is because some students, including myself personally in the past, feel a kind of impostor syndrome: they sometimes don't feel like they belong here. This feeling can stem from things as atrocious as overt racism and racialized stereotypes, but it can also come from the context in which engineering concepts are discussed and applied, or from not sharing similar non-academic interests as the wider community.
What are some of the challenges you hope to address?
A key challenge is establishing baseline data. If you asked me how many women were studying at U of T Engineering right now, I could give you an answer. If you asked me how many Black students we have, I couldn't tell you. We currently do not have any Black professors.
Sometimes it's uncomfortable to see our flaws and our imperfections, but having those flaws is only bad if you see them and then choose not to address them, or purposefully stay ignorant so that you feel like there's nothing to address.
Other challenges are more qualitative. There is sometimes a perception out there that U of T is not conducive to the Black experience. This speaks to a notion deeper than just the need for the Faculty to diversify its student population — it speaks to the need for creating a more inclusive environment. Increasing the Black student population without addressing barriers to inclusion will only create a larger population of people who may still feel ostracized from the community.
It's also important to recognize that the Black experience is not a monolith. Differences in cultural and social environment and lived experiences are important to consider when working to increase both diversity and inclusion.
What are some strategies you are considering?
There are many organizations within the GTA trying to enhance the development of Black students and other groups who are underrepresented in STEM. I recently attended an event organized by the Ontario Black Youth Action Plan, where I met with many groups we could potentially partner with to work on pre-collegiate student outreach & development and fostering interest in STEM.
I'm also working with the Faculty's Community Affairs and Gender Issues committee who have already started developing a diversity survey they hope to roll out next year, which could help gather some baseline data.
There are some more immediate strategies the Faculty could execute to create a more welcoming environment for its Black students, such as supporting anti-Black racism campaigns and providing support for groups focused on these goals.
In the longer term, I plan to be involved in a steering committee, similar to the Eagles' Longhouse, our Indigenous initiatives steering committee, but focused on the Black community. Through various working groups, we would assess some of the barriers and create recommendations, whether it's in terms of scholarships, enhancement to recruitment, co-curricular programming, or student experiences.
Why is this role personally important to you?
I have a friend, another former NSBE U of T president, who once said she didn't even know that she was Black until she came to Canada. I was born in Canada, but lived in Grenada for 10 years. When I came back, I really noticed the difference between being in a place where everyone looked like me, to being in a place where everyone looks different, and has particular biases about me. I think, unfortunately, a large number of Black students in the Faculty may identify with that feeling.
It should be the case that once someone is here at the University of Toronto, they should feel like they are part of a community, and feel safe within that community. The Faculty has work to do in this regard, but I'm glad that U of T Engineering sees a need to address diversity and inclusion, and I'm glad that I can be a part of that process.
By Tyler Irving:  U of T Engineering News