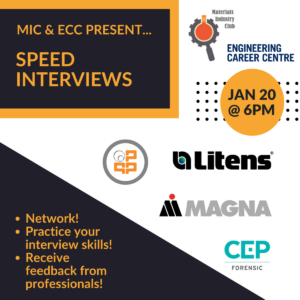 Materials Industry Club (MIC) and Engineering Career Center (ECC) will be hosting a speed interview event on Jan 2oth at 6PM. 

Engineers from companies such as Peel Plastics, Litens Automotive, Magna International, and CEP Forensic will be on campus to interview and network with MSE students! Sign up now via the link below to reserve your interview spot! This event is only open to students enrolled in MSE program at UofT.

Spots are limited, so sign up ASAP through: https://forms.gle/zGWFJMV9CB5H5pBw5The form officially closes January 14th.