Professor Hani Naguib elected Fellow of the Society of Plastics Engineers (SPE)
[sharexy]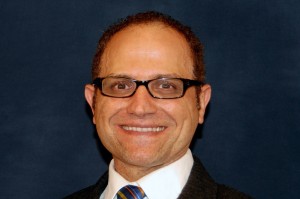 Professor Hani E. Naguib (MIE / MSE), Canada Research Chair in Smart & Functional Materials and Director, Toronto Institute for Advanced Manufacturing
March 4, 2015 | By Luke Ng
Professor Hani Naguib has been elected to Fellow of the Society of Plastics Engineers (SPE). The Fellow Grade is the highest elected rank of membership within SPE, recognizing inductees who have demonstrated outstanding achievements in the field of plastics engineering, science and technology. This is the second occasion for which Professor Naguib has been elected as a fellow of a distinguished professional society in the last six months.
Dr. Naguib's induction recognizes his accomplishments in state-of-the-art of plastics engineering through advances in technology and commercial practice, bringing significant benefit to society. Only 302 members have been elected as Fellow of the SPE since it was established in 1984.
Naguib's expertise is in the area of manufacturing of emerging materials including smart and active polymers, bio-based polymers and polymer composites. He is best known for his research on nanostructured active polymers and composites with applications including structural, sensors and actuators, energy storage and harvesting devices. The main goal of his research program is to develop sustainable and transformational materials and manufacturing for the industrial, energy, and biomedical sectors.
"Sincerest congratulations to Hani on another well-deserved Fellowship induction," said Professor Jun Nogami, Chair of the Department of Materials Science & Engineering. "His work on smart and functional polymeric materials will have an impact in many new technologies."