University Professor Emerita Ursula M. Franklin to receive honorary doctorate from Ryerson University for lifetime work in human rights and public service
[sharexy]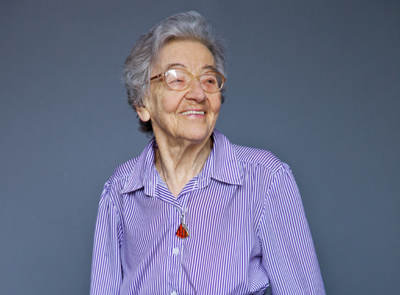 Ursula M. Franklin, University Professor Emerita
June 2, 2011
She is a materials engineer, but also very well known as a pacifist, feminist, human rights activist, author and educator. On June 14, 2011, University Professor Emerita Ursula M. Franklin (MSE), CC, O.Ont, FRSC will be honoured for her lifelong work in public service with an honorary doctorate from Ryerson University.
Professor Franklin joined the U of T community as a faculty member in 1967, and was the first female professor in the Department of Materials Science & Engineering (then known as Metallurgy & Materials Science). Her research focused on the application of modern materials analysis to archaeology. She has published more than 100 scientific papers and contributed to scores of books on the structure and properties of metals and alloys, as well as on the history and social effects of technology.
To the Canadian public, Professor Franklin is widely regarded for her work as a pacifist and human rights activist. She was presented with the Pearson Medal of Peace by the United Nations for her national and international advocacy in 2001.
Born in Munich, Germany, Professor Ursula Franklin is a Fellow of the Royal Society of Canada and member of NSERC, a Canadian agency that promotes science research. In 1984, she became the first woman to be appointed as University Professor at UofT, the University's highest rank. She was later presented with an honorary degree from UofT in 1994 for her contributions to engineering. Franklin has received several awards, including the prestigious Officer of the Order of Canada (1981), Companion of the Order of Canada (1992) and the Governor General's Award (1991) in recognition of her work to help advance equality for women across the country. A Toronto inner city high school – the Ursula Franklin Academy – was named after the engineer and scientist for her services to education in 1995. She has also authored two books The CBC Massey Lectures – The Real World of Technology (1999) and The Ursula Franklin Reader (2006), as well as numerous technical papers.
"University Professor Emerita Ursula Franklin's dedication to research is matched only by her altruism as a community leader and mentor," said Cristina Amon, Dean of the Faculty of Applied Science & Engineering. "On behalf of my colleagues and the Faculty, I congratulate her on this deserving, lifelong honour. We are so very proud."