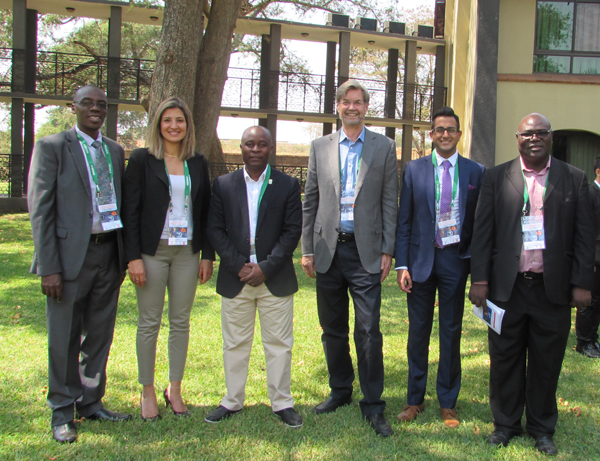 From mitigating climate change to enhancing human health, engineers are at the forefront of addressing challenges that transcend borders. In creating novel technologies and innovative approaches, they must ensure that their solutions are appropriate for the needs of local communities all around the world. Global Engineering Week, which runs from March 12–16, challenges U of T Engineering students to think critically about these issues.
"If we really want to be able to solve complex, international problems effectively and sustainably, engineers need to be able to extend their problem solving beyond technical analysis," says Malik Ismail (EngSci 1T6 + PEY), the founder of Global Engineering Week. "They need to be aware of socioeconomic and political factors, and to work with other professions to effectively address them."
Ismail was inspired by his own experience through his fourth-year Engineering Science thesis project, where he worked to identify the most effective renewable energy strategy for Zambia to address its electricity deficit over the next 15 years. Last August, he traveled to the country to present his work at an international investment conference.
"One of the conversations which stuck with me was with a Zambian infrastructure official, who pointed out that it wasn't the technical feasibility of renewable energy that was challenging," says Ismail. "Instead, what has held back renewable energy in Zambia has been a gamut of economic, educational and political challenges, including raising public awareness of the benefits of renewable energy and developing a functioning market for it."
Ismail is working with the Faculty as well as the Centre for Global Engineering (CGEN) and the U of T Engineering Chapter of Engineers Without Borders (EWB) on Global Engineering Week. Their approach includes guest lectures, specialized curricula, and a student-run global engineering fair.
"What we're trying to do is fully immerse students in an environment of global engineering throughout the week," says Ismail. "That means engaging them both inside and outside the classroom." Overall, the week is anticipated to engage over 3,000 undergraduate and graduate students across the University.
Global Engineering Week launches with a double-header guest lecture on Monday, March 12. The bill features Dan Frey, the Faculty Director for Research at MIT's D-Lab, and Paul Cadario (CivE 7T3), Distinguished Fellow in Global Innovation at U of T Engineering and the Munk School of Global Affairs.
Throughout the week, professors in 16 classes — including Engineering Strategies & Practice, taken by all first-year students in the Core 8 disciplines — will incorporate case studies about global engineering projects into their lesson plans. The week also includes a case competition and wraps up with a global engineering fair, organized jointly by CGEN and EWB's U of T Chapter.
"The goal of the fair is help students and faculty understand what global engineering looks like on the ground," says Morris Huang (Year 2 MSE), the Evolving Engineering co-lead with EWB at U of T. "They'll be able to see examples of projects that CGEN has facilitated in the past, such as the windmill they built in Pedro Arauz, Nicaragua, and ask questions of the students who participated."
This year marks the second year that Global Engineering Week has taken place at U of T. In the future, Ismail hopes to take the program national.
"I'm very grateful for the opportunity to have been exposed to global engineering throughout my degree," says Ismail, who now works for the global firm Boston Consulting Group. "I've seen the value it's been able to bring, and I want to pass that on to the next generation of engineers."
By Tyler Irving, U of T Engineering News