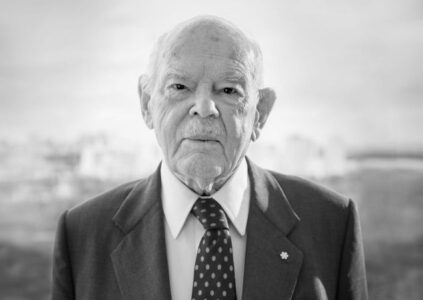 Distinguished U of T alumnus and supporter Gerald Heffernan (BASc 1943, Hon DSc 1993) passed away on July 28 at age 104. He leaves an exceptional legacy in a wide array of fields, most notably steel manufacturing, where he was one of the world's great innovators.
"The University of Toronto was fortunate to have such a strong champion in Gerald Heffernan," said University of Toronto President Meric Gertler. "Jerry's passion for and support of entrepreneurship in Canada was legendary. We're so grateful that he made a special effort to encourage and inspire young innovators at U of T. His generosity to U of T and to countless other causes and charities will have a lasting impact. I extend heartfelt condolences to the Heffernan family."
Heffernan's generosity had transformative impact for U of T innovators
Heffernan's association with U of T, as a donor and volunteer, was a lifelong passion. Both he and his late wife Geraldine, who died in 2018, were alumni of the university who made profound impact on their alma mater for years.
At the Faculty of Applied Science & Engineering, he established the Heffernan/Co Steel Innovation Post-Graduate Fellowships in 1997 — a program to help outstanding young entrepreneurs transform their discoveries into commercial products with economic and societal impact. In 2013, the Heffernans made a leading gift to provide space for The Entrepreneurship Hatchery, now the home of U of T Engineering's entrepreneurship incubator. Just last year, Gerald gave generously to renovate U of T's award-winning Structural Testing Facilities labs.
"Jerry was one of the greatest supporters of entrepreneurship at U of T Engineering," said Christopher Yip, Dean of the Faculty of Applied Science & Engineering. "He had such a desire to help Canadian engineers, applied scientists and engineering students, both in terms of teaching and research. My colleagues and I always benefited immensely from Jerry's insights and wisdom. His passion for supporting the next generations of innovators was contagious, and we were fortunate to have him as one of our most outspoken champions.
Together Gerald and Geraldine Heffernan contributed more than $11 million to support University of Toronto students, programs, researchers and buildings. Beyond their transformative gifts to Engineering, the couple's philanthropy at U of T included support for research in music and Alzheimer's disease, and support for the Tanz Centre for Research in Neurodegenerative Diseases.
Heffernan was a faithful contributor to the Faculty of Music's opera program — in 2019, the University celebrated his 100th birthday at a special performance of The Marriage of Figaro, honouring his generosity, enthusiasm and friendship. Their wider philanthropy included gifts to the Sunnybrook Health Sciences Centre Foundation, CIFAR, and the Canadian Opera Company.
A technological visionary in the global steel industry and a champion of entrepreneurship
Gerald Heffernan received his BASc in metallurgy and materials science from the University of Toronto in 1943, and pursued graduate studies at the University of British Columbia. He was considered one of the few true technological visionaries in the global steel industry, founding Co-Steel Inc. in 1970. His innovations altered and improved steel production around the world. A highly skilled engineer and scientist, he was widely recognized as one of Canada's most successful innovators and entrepreneurs, and received honorary degrees from both U of T and Queen's University.
Heffernan had deep roots within the University community and a long history of volunteer service here, which U of T honoured with an Arbor Award in 2000. In 1992, he was inducted into the Engineering Alumni Hall of Distinction, and through the 1980s and 1990s served as a Presidents' Committee member. He is also a member of the Canadian Business Hall of Fame and the Canadian Science and Engineering Hall of Fame. He was an Officer of the Order of Canada.
David Palmer, Vice-President, Advancement of U of T, said, "Jerry Heffernan was an inspiration to everyone who knew him, in particular the students he supported. Even in his late nineties, he was working hard as a champion and advocate on a national level, to help lift the careers of young, bright Canadians, to ensure their success, and to make them competitive on the world stage. Canada has lost one of its truly outstanding innovators and volunteers. He was one of our most inspiring alumni citizens, and we will always fondly remember and cherish Jerry's enduring legacy at U of T."
Story by Safa Jinje