U of T MSE remembers alumnus' lifelong dedication to the profession and his Alma Mater
[sharexy]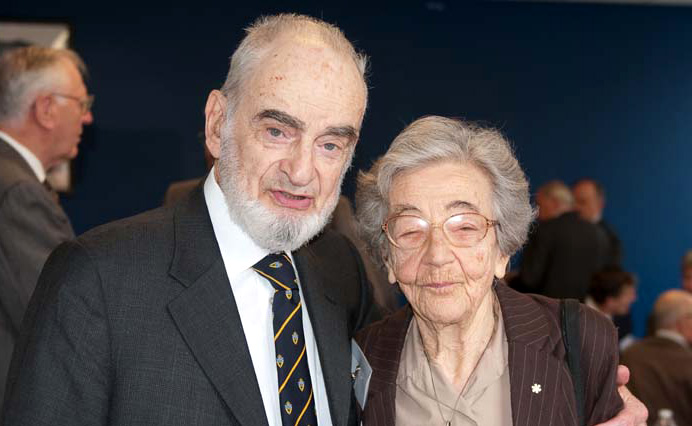 Ted Gerson (MMS 4T7; left) with University Professor Emerita Ursula M. Franklin at the 2010 Winegard Visiting Lectureship in New Materials Engineering
July 28, 2014
Alumnus Frederick "Ted" Gerson (MMS 4T7) was born in Essen, Germany on February 16, 1921 and passed away on July 18, 2014.
Ted became a U of T alumnus in 1947 when he graduated from the University of Toronto Faculty of Applied Science & Engineering with his undergraduate degree in metallurgical engineering (now Materials Science & Engineering).
Through a 35-year career as a consulting professional engineer, Ted contributed significantly to the well-being of the metallurgical industry, notably through advice and reports on products, processes and manufacturing in plastics and non-ferrous metals, with emphasis on recycling, waste reduction and environmental protection. His numerous professional honours include Fellow of Engineers Canada, Honorary Warden of Camp One Iron Ring (Toronto) and induction into the U of T Engineering Alumni Association's Hall of Distinction in 1995.
Ted was also a passionate and dedicated volunteer of his Alma Mater. He served on the Department of Materials Science & Engineering's (MSE) External Advisory Board during Professor Doug Perovic's term as Chair and was a past president of the U of T Engineering Alumni Association. He received the U of T Arbor Award in 1992 – the highest honour bestowed from the President of the University of Toronto to recognize distinguished volunteer contributions to the University.
"Ted was a proud MSE graduate who never missed an opportunity to promote his alma mater with a level of passion that reflected a truly great man," said Professor Perovic. "He served on the MSE External Advisory Board with strength and vigor to help put our department into a new realm – a legacy that will benefit students, faculty and staff for many years to come."
"I am deeply saddened to learn of the passing of Ted," said Professor Jun Nogami, Chair of the Department of Materials Science & Engineering. "I will miss the twinkle in his eyes, and his enthusiastic support for both our department and the entire Faculty."
Ted is survived by two children, five grandchildren and a number of extended family in the United States and Europe.