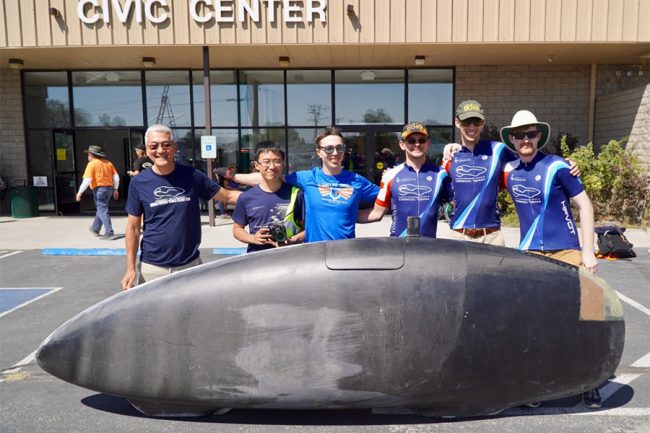 This month, Friday the 13th was a lucky day for U of T Engineering's Human Powered Vehicle Design Team (HPVDT), as they broke the world record for tandem biking at the World Human Powered Speed Challenge (WHPSC).
WHPSC is a global competition that takes place annually in Battle Mountain, Nev., and challenges cyclists to break the human-powered vehicle speed record. This year, HPVDT competed against student teams from across the world, including the U.S., Italy, France and the Netherlands.
U of T Engineering teams and alumni have historically dominated at the WHPSC, having the fastest bike and/or setting records in 2015, 2016 and 2017. But this year the team took a new approach, fielding their first tandem speed bike, dubbed Titan. Despite many last-minute challenges, they achieved a top speed of 120.2 kilometers per hour, shattering the previous record of 117.61 km/hr, set back in 2012.
"We set a new world record in a barely-finished vehicle," says lead designer, builder and pilot Calvin Moes (EngSci 1T3 + PEY, MSE PhD candidate). Moes was one of the two riders on the record-setting run; the other was Evan Bennewies (EngSci 1T8 + PEY).
"That we achieved this, under such conditions, speaks to the quality and potential of the design," says Moes. "Next year, this bike is going to go a lot faster — we think it could be a game-changer for the sport as a whole."
Titan's record run was accomplished with only 900 watts of power output from Moes and Bennewies. In comparison, another team finished at 90 km/h with five cyclists, each outputting about 1,000 watts during the sprint.
"The team worked very hard over the summer to get their bike built before the competition, but in the end, they arrived at Battle Mountain the week before the competition with a largely complete but untested vehicle," says faculty advisor, Professor Jun Nogami (MSE). "It was inspiring to see them break the record by the end of the week."
By Jun Nogami for the UofT Engineering News