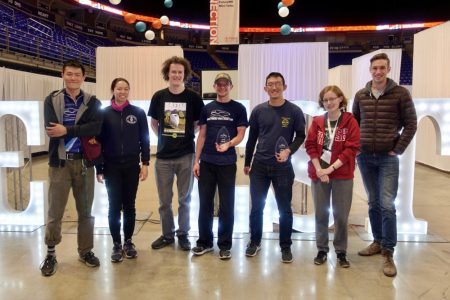 Arbiter, a streamlined trike with monocoque carbon fiber construction and full suspension, placed second in design and innovation at the 2018 ASME Human Powered Vehicle Challenge in April. Held at Penn State University, the Human-Powered Vehicle Design Team (HPVDT), consisting of multi-disciplinary U of T engineering students, raced against 47 other groups of competitors from the U.S., Mexico, India, and the Middle East.
"For the first time in the team's history, we were able to test the completed vehicle prior to the competition," said Calvin Moes (MSE PhD candidate), Arbiter's team captain. "Our team designed a vehicle that is safe, fast, maneuverable and practical, and we demonstrated what Arbiter is capable of during the Challenge."
The team designed Arbiter with the goal of creating a faster, more comfortable replacement for a bicycle ready for April's competition. Featured in a pre-race video segment on Discovery Channel the team documented Arbiter's final preparations before heading to Pennsylvania.
Receiving high scores for design and innovation, HPVDT was in second place overall before the racing events. However, mechanical failure prevented the team from competing in the Men's and Women's Speed Event. Working throughout the day and night on the Saturday, Bill Kong (Math and Physics), Valina Sintal (MIE), Thomas Ulph (Eng Sci), Calvin Moes (MSE), Bruce Hu (MIE), Susanna Rumsey (ECE), and Evan Bennewies (EngSci) repaired Arbiter and raced on the last day in the Endurance Event. Four riders alternated during the 2.5 hour race and HPVDT took fourth place on the podium, and eighth place overall.
"Despite one structural failure that weekend, our performance at the ASME event reflected the team's high level of preparation," said Moes. "The team came together and designed and planned a repair operation to get Arbiter back on the track, and during the next race we posted some of the fastest lap times of any competitor."
The team showed much grit and determination at the ASME Human Powered Vehicle Challenge and will spend the summer working on several continuing projects, as well as preparing for forthcoming competitions.