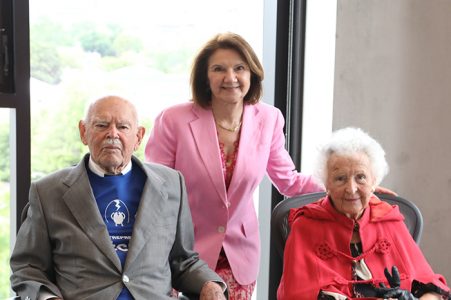 Gerald Heffernan (MMS 4T3) and his wife Geraldine have a long history of helping outstanding Canadian business graduates and engineers transform discoveries into commercial products with economic and societal impact.  A new $3-million gift to the Faculty of Applied Science & Engineering builds on their passion for entrepreneurship.
This latest gift expands post-graduate fellowships and brings the Heffernans' giving to the Faculty to a remarkable $9.6 million. Their generosity also provides space for The Entrepreneurship Hatchery within the new Myhal Centre for Engineering Innovation & Entrepreneurship.
"We are deeply grateful to the Heffernans for their continued generous support of U of T Engineering," says Cristina Amon, Dean of the Faculty of Applied Science & Engineering. "Their new gift will further strengthen the spirit of entrepreneurship that they have inspired in our students and graduates over many years."
The gift bolsters the Heffernan Innovation Post-Graduate Fellowships, a program that supports engineering master's and PhD students and graduates, as well as engineering graduates pursuing an MBA at U of T's Rotman School of Management. The fellowships are intended to help bring student inventions to market through financial support and mentorship.
Heffernan Fellowships have helped commercialize many successful products. Past recipients include civil engineering alumnus Carlos de Oliveira (CivE MASc 2006), whose research on earthquake-resistant structural casting led to the founding of Cast Connex Corp. The company has gone on to become the industry leader in the architectural and structural use of steel components in the design and construction of buildings and bridges.
"These generous fellowships will enable graduate students under the Hatchery Launch Lab to create research-driven startup companies and develop entrepreneurial mindsets," says Joseph Orozco, Executive Director of the Entrepreneurship Hatchery. "More fellowships in addition to the Hatchery's support and resources help bring more promising new technologies from U of T Engineering researchers and students one step closer to market."