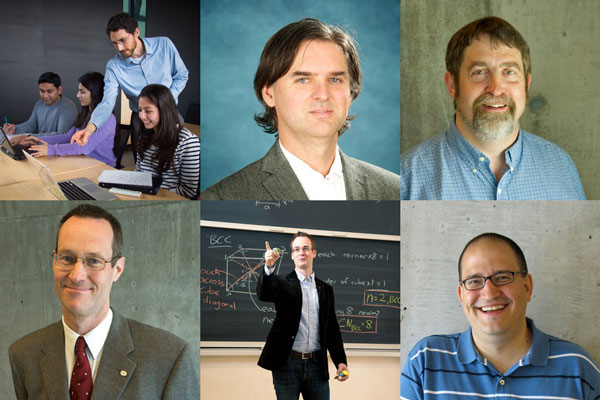 May 30, 2017 | By Tyler Irving and Kevin Soobrian
Six U of T Engineering faculty members have been named the inaugural Hart Teaching Innovation Professors. Enabled by a landmark $20 million bequest from the estate of alumnus Erwin Edward Hart (CivE 4T0), the professorships support innovation in engineering education, from technology enhanced active learning (TEAL) to Indigenous outreach.
"These professors are leaders in pedagogical practice and are driving our Faculty's innovation in engineering education," said Cristina Amon, Dean of the Faculty of Applied Science & Engineering. "Their creativity and dedication enrich the student experience and inspire the global engineering leaders of tomorrow."
The new professorships complement the Percy Edward Hart and Erwin Edward Hart Professorships for early-career researchers, announced last fall. They are part of a rich suite of initiatives focused on enhancing engineering education across the Faculty and within the profession more broadly, including a recent workshop on educational technology and state-of-the-art learning facilities housed within the forthcoming Centre for Engineering Innovation & Entrepreneurship. Next month, U of T Engineering will host the annual conference of the Canadian Engineering Education Association, which brings together thought leaders in the field from across Canada and beyond.
Scott Ramsay (MSE) — Advanced video for advanced education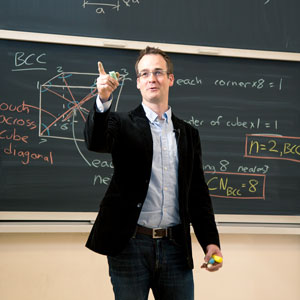 Throughout his career at U of T, Scott Ramsay has been at the forefront of first-year teaching as an Associate Professor in the Department of Materials Science & Engineering. For his consistent innovation in pedagogy, Ramsay has received the Faculty's Early Career Teaching Award and a Wighton Fellowship from the Sandford Fleming Foundation.
Ramsay will continue to enhance undergraduate engineering courses by employing video in innovative ways. Using high-resolution video, multiple camera angles, careful movements, high-quality audio and judicious editing in post-production, Ramsay will explore several research questions that include:
Does a preference exist amongst undergraduate students for multi-camera lecture recordings versus single-camera recordings?
Is student perception of subject matter improved by having access to multi-camera lecture recordings?
Does a particular subset of students benefit most strongly from access to multi-camera lecture recordings?
Does the use of high production value video in an online course improve student performance?
Does the use of high production value video in a not-for-credit online course (ex. MOOC) improve student retention and completion rates for students with the intention to complete the course?
Read about all six Hart Teaching Innovation Professors at U of T Engineering News