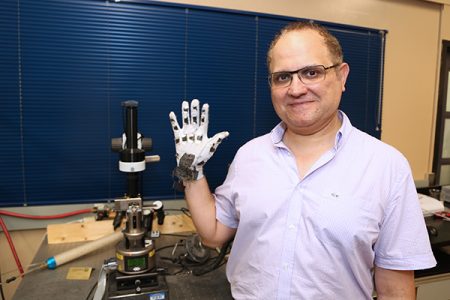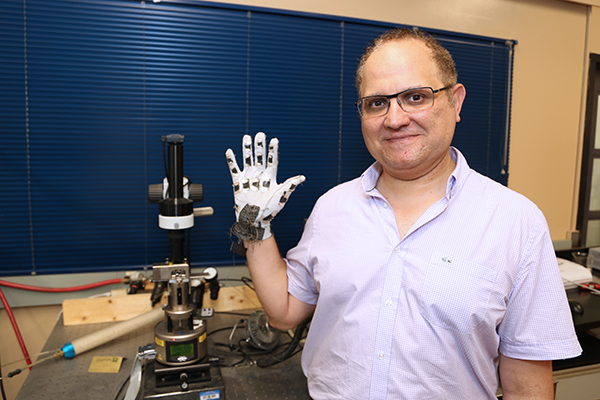 Professor Hani Naguib has been elected to the Royal Society of Canada's College of New Scholars, Artists and Scientists. Naguib is an international leader in in manufacturing new multifunctional smart materials, including ones that can respond to signals from wearables like this electronic glove. (Photo: Tyler Irving)
September 16, 2016 | By Carolyn Farrell
—Originally published by U of T Engineering News
Professor Hani Naguib (Joint-appointed with the Department of Mechanical & Industrial Engineering) has been named to the 2016 cohort of the Royal Society of Canada's College of New Scholars, Artists and Scientists. Established in 2014, the College is Canada's first national system of multidisciplinary recognition for the emerging generation of Canadian intellectual leadership. It was created to gather young scholars, artists and scientists into a single collegium where new advances in understanding will emerge from the interaction of diverse intellectual, cultural and social perspectives. New members of the College will be inducted at the Society's Annual General Meeting in Kingston, Ont. on November 18.
As Canada Research Chair in Smart and Functional Materials, Naguib has established an internationally renowned research program in manufacturing new multifunctional smart materials. The primary focus of his research is the fabrication, characterization and modelling of smart polymers, including bio-based polymers and polymer composites. These materials have a variety of applications, including flexible electronics, thermal management, electromagnetic shielding, energy storage and harvesting, biomedical imaging and clinical materials. Naguib is best known for his research on the design and development of electroactive polymers used for flexible and wearable electronics in biomedical and energy applications.
Naguib is the founding director of the Toronto Institute of Advanced Manufacturing. The Institute's mandate is to create a single portal for leading expertise and infrastructure in advanced manufacturing, focusing on new technologies, materials and processes enabling improved technology transfer from an idea to a final product.
Naguib's research has resulted in nearly 300 refereed publications in top-tier journals and conference proceedings and more than 200 conference presentations. He has supervised 64 graduate students and fostered many national and international research collaborations with academic institutions, hospitals and industry partners. His research has been recognized by the leading professional and technical societies in his field: he is a fellow of the Canadian Society for Mechanical Engineering, the American Society of Mechanical Engineers, the Society of Plastics Engineers and the Institute of Materials, Mining and Minerals (IOM3) in the UK.
"Through his research and his leadership of the Institute of Advanced Manufacturing, Professor Hani Naguib has significantly advanced the development and manufacturing of smart multifunctional materials," said Dean Cristina Amon. "I am delighted that he has been recognized by the Royal Society of Canada as one of the leaders of Canada's next generation of scholars."