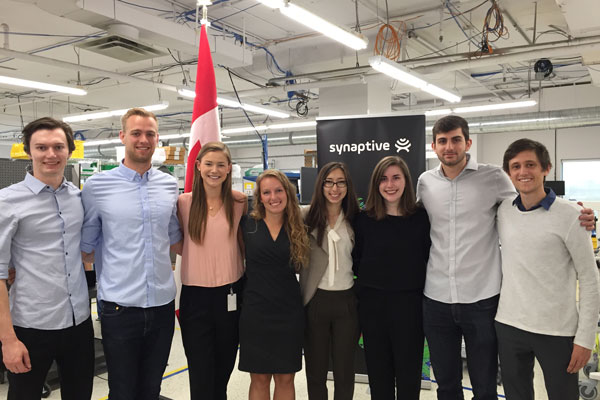 Left to right, U of T undergraduates Aaron Boswell (Computer Science), Matt Dans (Computer Science), Robin Todd(Year 3 CompE), Kaitlin Kreamer-Tonin (EngSci 1T6+PEY), Jennifer Dixon (Year 3 MSE), Samantha Stuart (Year 3 MSE), Sever Topan (Year 3 CompE), and Dale Gottlieb (Year 3 MSE) are all working at Synaptive Medical on Professional Experience Year (PEY) internships. (Photo: Susan McCahan)
September 1, 2017 | By Tyler Irving
On August 28, the Honourable Patty Hajdu, Canada's Minister of Employment, Workforce Development and Labour, announced the Government of Canada's commitment to help create 60,000 student work placements over the next five years.
The announcement was made at Synaptive Medical, a Toronto-based biomedical technology firm that currently employs eight U of T undergraduate students on Professional Experience Year (PEY) internships.
"When Canadian students get on-the-job education, they're getting the experience they need to succeed," said Minister Hadju. "Our Innovation and Skills Plan is putting Canada's skilled, talented and creative people at the heart of a more innovative future economy."
Samantha Stuart (Year 3 MSE), attended the event along with several of her fellow interns. She says one of the most valuable lessons she has learned on the job so far is to challenge the status quo.
"In quality assurance, where I work, it's our task to constantly seek opportunities for improvement, and to look for new problems to solve" she said. "You learn to never be completely satisfied, but instead to think 'this is how we do it now, but here's how it could be better.'"
The Government of Canada is rolling out a $73-million investment in the Student Work-Integrated Learning Program to create 10,000 paid student work placements over the next four years, facilitating stronger partnerships between employers and partnering polytechnics, universities, and colleges. Budget 2017 also announced $221 million in funding over five years for Mitacs, a not-for-profit organization that provides research internships with a goal of creating 10,000 work placements per year.
For nearly 40 years, U of T Engineering's PEY program has facilitated 12 to 16-month paid internships with partners worldwide, from local firms to global brands such as Apple, General Motors and Shell. Interns are paid a competitive salary, and many return to the companies as full-time employees after finishing their final year of study.
"PEY and programs like it give students an opportunity to explore their career interests, gain work experience, and learn how to apply their university learning in context," said Professor Susan McCahan (MIE), U of T's Vice-Provost, Innovations in Undergraduate Education, who also attended the event. "More paid internships in a wider variety of fields provides better access to this valuable experience for students."
Learn more about PEY internships at U of T Engineering
Following her year at Synaptive, Stuart will complete her final year at U of T Engineering, after which she hopes to pursue a master's degree in biomedical engineering. Eventually, she plans to work in the biotech industry, either in quality assurance or research and development.
"I'm passionate about biomedical innovation, and getting a year of experience with such a forward-minded company in this area has been an exceptional learning experience," said Stuart. "Learning how an innovative firm can engage in a heavily regulated industry to create and market new devices will be applicable virtually at any company looking to sell medical devices around the world."