Happy retirement, Professor Tom North!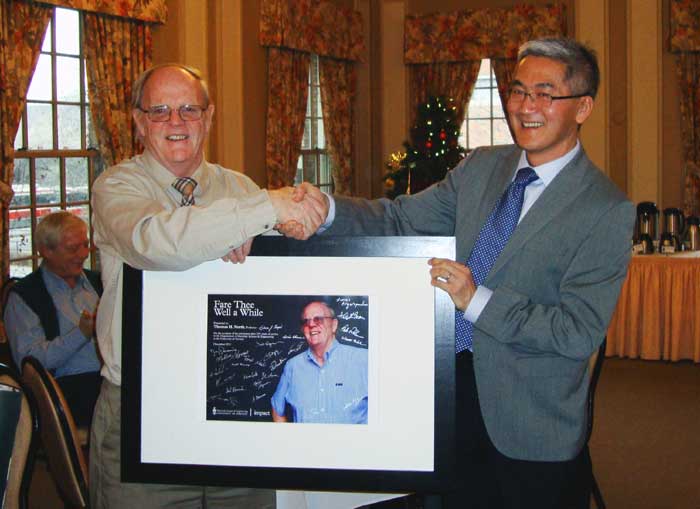 Photo: Department Chair, Professor Jun Nogami (right) presents Professor Emeritus Tom North (left) with a retirement gift signed by faculty and staff of the department
December 15, 2011
The Department of Materials Science & Engineering celebrated the retirement of Professor Tom North at the annual holiday celebration for faculty and staff this December. Effective January 1, 2012, Professor North will hold the title "Professor Emeritus" in honour of his service and status.
A large number of current and past faculty and staff, along with Professor North's wife, were present at the annual holiday party to mark this occasion. Professors Uwe Erb and Steven Thorpe spoke about the fondest memories they've shared with Professor North in their years of service in the Department.
Near the end of the holiday lunch, Professor Jun Nogami, Chair, presented a framed photograph from his retirement feature in Impact, signed by his MSE colleagues. A duplicate of the signed photograph will be displayed in WB 134 in 2012 to commemorate Professor North's 25+ years of dedicated service to students and research excellence in MSE at the University of Toronto.
"I think what we will miss most is Tom's enthusiasm," says Professor Nogami, Chair. "It is the essence of how he works with colleagues and students alike."
---
Read Professor Tom North's full retirement feature in Impact: Vol. II, 2012, "Fare Thee Well a While."