PhD candidate Paul Wu wins 1st prize in the graduate student poster contest at the 51st Annual Conference of Metallurgists (COM)
[sharexy]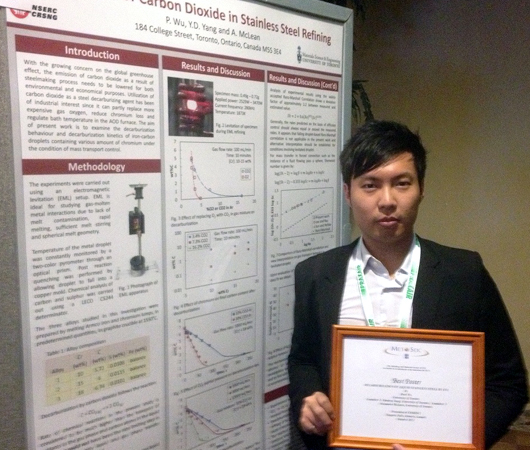 Photo: MSE PhD candidate Paul Wu with his Best Poster Award at the 51st Annual Conference of Metallurgists (COM) 2012
October 15, 2012
Congratulations to materials science and engineering (MSE) PhD candidate Paul Wu (MSE 0T7, MASc 0T9) for being recognized with the Best Poster Award at the 51st Annual Conference of Metallurgists (COM) 2012. Organized by the Canadian Institute of Mining, Metallurgy, and Petroleum (CIM), COM is the largest annual Canadian conference for materials / metallurgical engineering professionals, academics, and students. This year's event was held in Niagara Falls, Ontario, from September 30 to October 3, 2012.
Wu's research poster, titled "Application of Carbon Dioxide in Stainless Steel Refining" investigates the feasibility of employing carbon dioxide gas in the stainless steel purification process used to remove unwanted carbon from the final product. Today, the traditional method utilizes oxygen-argon gas mixtures to refine stainless steel, which leads to chromium oxidation—an undesired side-effect that results in some valuable alloy loss. The result of Wu's work has demonstrated that using carbon dioxide-argon gas mixtures to refine stainless steel is a feasible alternative to the conventional approach.
"Successful implementation of this research could have significant environmental and economic impact on the North American steelmaking industry. Carbon dioxide gas can be sourced directly from our air, which reduces greenhouse gas levels in our atmosphere. It also reduces the need to purchase carbon credits from the emission trading market," says Professor Emeritus Alexander McLean, one of Wu's research supervisors. "My congratulations to Paul on this most recent recognition of the fine work he is conducting as part of his doctoral program."
This work utilizes a novel process known as electromagnetic levitation, a container-less melting technique built by Wu and senior research associate, Dr. Yindong Yang. It bypasses the traditional need of using ceramic crucibles, and effectively eliminates refractory contamination in the final product. This is the second time Wu has received recognition for research work involving this novel procedure to achieve award-winning results.
Wu, a member of the Ferrous Metallurgy Research Group, is co-supervised by Professor Emeritus Alex McLean, Associate Professor Mansoor Barati, and Senior Research Associate Dr. Yindong Yang.