PhD candidates Sherry Esfahani and Dawei Yu claim first and third prize at the CIM TO13 student poster contest
[sharexy]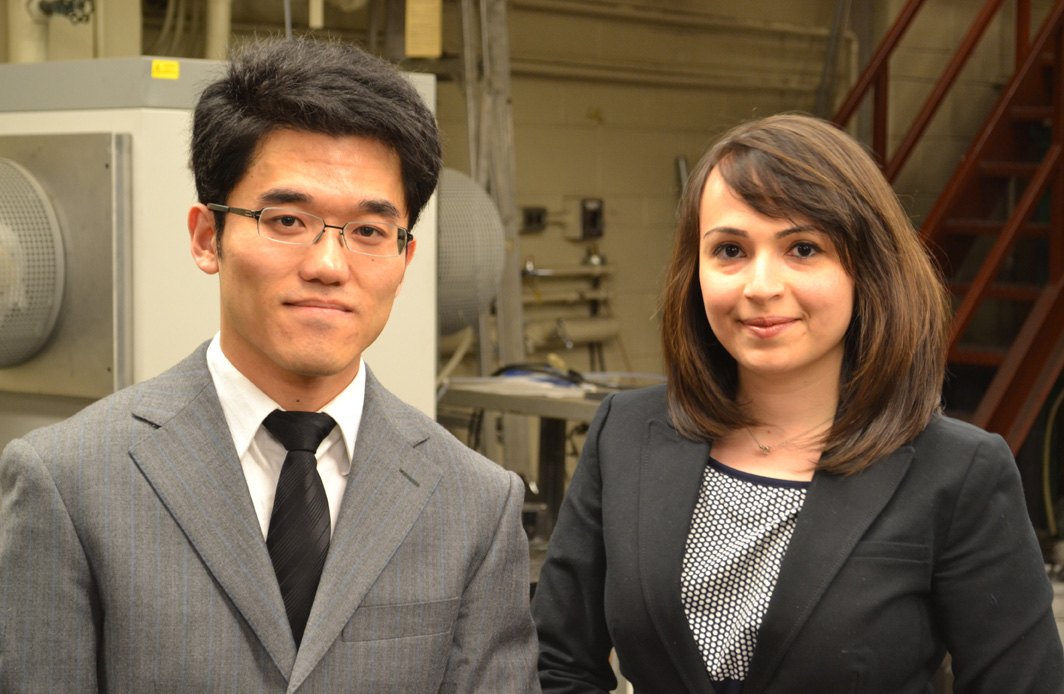 Photo: Materials Science & Engineering (MSE) PhD candidates Dawei Yu (left) and Sherry Esfahani (right)
May 14, 2013
Congratulations to Materials Science & Engineering PhD candidates Shaghayegh "Sherry" Esfahani and Dawei Yu for garnering the 1st and 3rd prize, respectively, in the student poster competition at the 2013 Canadian Institute of Mining, Metallurgy & Petroleum (CIM) annual convention. Held May 5-8 at the Metro Toronto Convention Centre and dubbed "CIM TO13," this year's event brought together over 400 companies and Canada's top mining sector professionals to one of the largest gatherings in this industry.
Supervised by Associate Professor Mansoor Barati, Esfahani's work titled, "Energy Recovery from Metallurgical Slags" investigates the recapture of heat energy from metallurgical slag (a high-temperature waste stream in the materials processing industry), and the repurposing of the remaining solid materials into a cement substitute known as slag cement. In conventional slag heat recovery methods, the slag's energy is converted to thermal energy. Esfahani's method deploys a novel technique – known as coal gasification – in which slag's heat is recovered by air and later converted to chemical energy while producing the cement substitute from the slag stream within the same efficient procedure.
Yu's work titled, "Fluidized Bed Selective Oxidation & Sulfation Roasting of Nickel Concentrate," was started under the guidance of the late Professor Torstein A. Utigard, and is now supervised by Associate Professor Mansoor Barati. Currently, the conventional pyrometallurgical route for nickel production in Canada has two undesired effects: high sulphur dioxide emissions and energy-intensive processing requirements. Yu's research modifies the process by deploying a fluidized bed sulfation roasting technique to convert the valuable metal sulfide species to water soluble sulfates. This allows for the easy recovery of valuable metals just by leaching with water while minimizing sulfur dioxide emissions and energy consumption. The residue from the water leaching process could then be used in the production of ferronickel alloys, thus achieving maximum utilization of resources while minimizing the environmental impact.
"The continued investigation into sustainable methods of processing Canada's resources into useable materials is critical to our long-term economic and environmental well-being," said Professor Jun Nogami, Chair of the Department of Materials Science & Engineering. "Congratulations to Sherry and Dawei for their ingenuity, hard work and resulting recognitions, as well as to Mansoor for his exemplary supervision of these students."
"This work demonstrates the vital role that our discipline plays in our nation's ability to address sustainability, energy, and economic considerations – the ability to produce cost-effective and environmentally-conscious materials has a direct correlation on affordable goods for Canadians," said Nogami. "I am also pleased to see the legacy of our esteemed colleague and dear friend, Torstein Utigard, carried on by our students."
---
Esfahani was also announced as 1 of 8 short-listed candidates for a 2013 U of T Teaching Assistants' Training Program (TATP) Teaching Excellence Award earlier this month. Created in 2003, the award recognizes the outstanding contributions of TAs at U of T who regularly inspire and challenge undergraduate students. The program saw 462 student and 62 faculty nominations for 182 TAs across the University.