A OLED Lamp created by MSE alumni, a build-it-yourself robot kit, a revolutionary pressure cooker and a first-of-its-kind universal hex key are just a few of the items — all designed by U of T Engineering alumni and students — that we've rounded up in our 2017 Holiday Gift Guide.
aerelight A1 OLED Lamp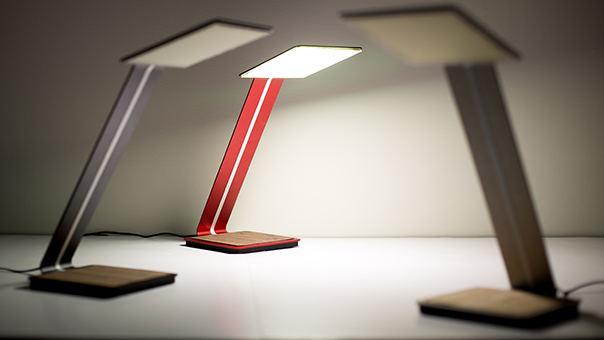 Michael Helander (EngSci 0T7, MSE PhD 1T2) gave up a career in academic research to start a technology company called OTI Lumionics. Their first product, the aerelight A1 OLED lamp, is a sleek aluminum-and-walnut desk lamp powered by cutting-edge organic light-emitting diode (OLED) technology. Hand-crafted in Canada, the aerelight A1's soft, warm light is emitted from an ultra-thin, 10-cm square wafer.
Cargo Cosmetics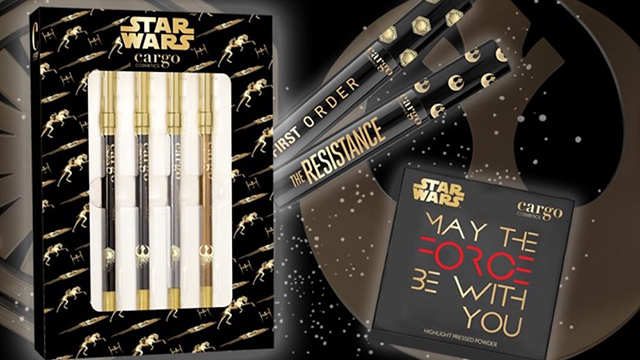 Cargo Cosmetics, a makeup line founded by Hana Zalzal (CivE 8T8) in 1995, is known as one of the most innovative and sought-after brands among professional makeup artists, celebrities and consumers worldwide. Cargo has all the high-quality makeup essentials you could ever need — including an out-of-this-world Star Wars-themed line just in time for the new film.
Everyone's a Aliebn When Ur a Aliebn Too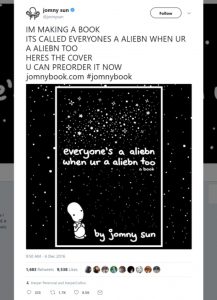 Alumnus Jonny Sun (EngSci 1T1 + PEY) is a doctoral student at the Massachusetts Institute of Technology, a fellow at the Berkman Klein Center for Internet Society at Harvard, and a creative researcher at the Harvard metaLAB, where he studies social media and online community. He also found time to write and illustrate a book that, according to celebrated actor/playwright Lin-Manuel Miranda, you should read "only if you want to feel more alive." everyone's a aliebn when ur a aliebn too (Harper Perennial) should be on everyone's wish list.
Energizer Batteries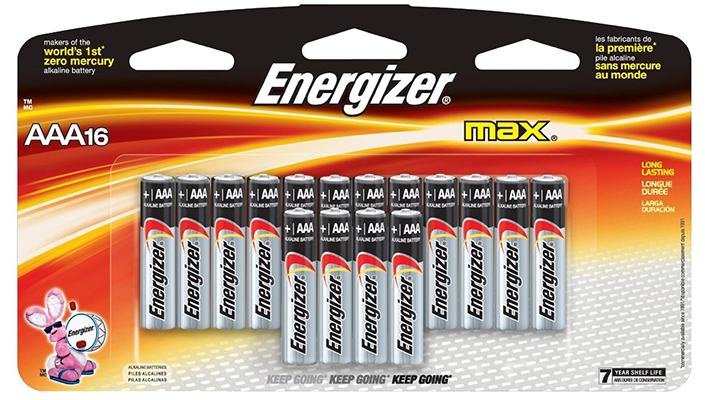 A pack of alkaline batteries is an essential stocking stuffer — but did you know that the technology behind them was developed by U of T Engineering alumnus Lewis Urry (ChemE 5T0)? While working for Eveready Battery in 1957, Urry and two of his colleagues invented a long-lasting alkaline battery using a zinc/manganese dioxide chemistry. We know it today as the Energizer battery, the source of power for toys and electronics around the world.
How We Can Win
Best known as the founder and CEO of Wind Mobile, Anthony Lacavera (CompE 9T7) knows a thing or two about building a successful brand in Canada. He ended up selling Wind for $1.6 billion after it grew to become Canada's fourth largest wireless carrier. In his inspiring new book, How We Can Win (Random House Canada), Lacavera outlines how the Canadian entrepreneurs of tomorrow can build big, powerful companies — and keep them here.
Instant Pot Pressure Cooker
Co-created by alumnus Dongjun Wang (ElecE 9T5), the Instant Pot has earned cult-like devotion from users since it debuted in 2009. The New York Times has professed its love for the device, and Wirecutter selected it as the best pressure cooker you can buy. There's even an Instant Pot Community Facebook group with more than 750,000 fans. Do yourself a favour: when you buy an Instant Pot for somebody on your list this year, put one under the tree for yourself, too.
Kamigami Robots
Shortly after Andrew Gillies (MechE 0T7) graduated with a PhD from the University of California at Berkeley, he co-founded Dash Robotics, Inc. with the mission of creating affordable, educational robots designed to inspire students to get involved in robotics and engineering. The company's six-legged Kamigami Robots are easy to fold and snap together from flat sheets into insect-like creations — no tools required. The free companion smartphone app enables users to remotely control their robot, battle with friends, play interactive games and more. They're perfect for the budding maker (or future engineer) on your list.
Kitty Hawk Flyer
Todd Reichert (EngSci 0T5, UTIAS PhD 1T1) and Cameron Robertson (EngSci 0T8, UTIAS MASc 0T9) are veteran world record smashers: they achieved the first flight of a human-powered ornithopter, the first sustained flight of a human-powered helicopter, and the world's fastest bicycle — twice. It only makes sense that they have teamed up with Google co-founder Larry Page and Google X founder Sebastian Thrun to design the Kitty Hawk Flyer personal air vehicle. It's possibly the closest humanity has yet come yet to a true flying car, and according to Engagdet, the company is currently accepting $100 down payments, which enrolls you for a $2,000 discount on the finished product. Best gift ever? The Kitty Hawk Flyer tops our list.
Nanoleaf Aurora Rhythm
Founded by Gimmy Chu (ElecE 0T6), Tom Rodinger (IBBME PhD 0T7) and Christian Yan (ElecE 0T6), Nanoleaf first made a splash on the lighting and design world with its premier product, the Nanoleaf One bulb, in 2014. And although we love their take on LED, it's their deconstruction of the lightbulb that really caught our eye. The Nanoleaf Aurora Rhythmis a fixtureless, customizable, integrative light source that brings the beauty of the Aurora Borealis into any room. Users can create custom lighting animations in the free Nanoleaf Smarter Series App and watch them come to life right before their eyes. The Rhythm add-on module converts music into light through the panels, transforming any wall into an avant-garde audio-visual art installation.
Nymi Band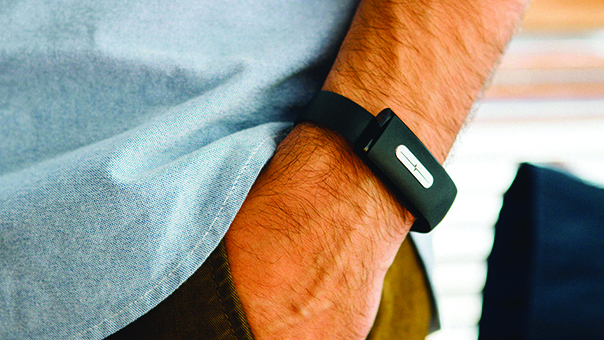 Nymi, the Toronto-based wearable tech company co-founded in 2011 (as Bionym) by alumni Foteini Agrafioti (ECE MASc 0T9, PhD 1T1) and Karl Martin (EngSci 0T1, ECE MASc 0T3, PhD 1T0), has generated serious buzz with its Nymi Band, the world's first wearable authentication system. Worn around the wrist, Nymi Band is embedded with an electrocardiogram (ECG) sensor that uses your heartbeat as a unique ID to seamlessly unlock mobile devices, remember passwords and even make retail payments — an all-in-one solution to the security measures we all navigate on a daily basis. Currently on backorder, we think the Nymi Band is a gift worth waiting for.
TeleHex Allen Key Set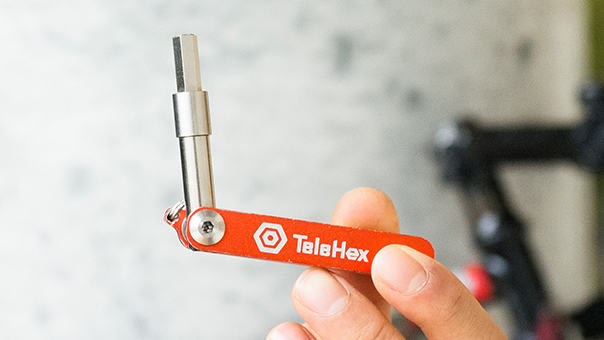 Peter Wen (Year 4 MechE) has been a serious cyclist for many years and his company, TeleHex, aims to make bike repair easier — not just for pros like himself, but for newbies as well. Wen has designed a unique telescoping tool that automatically adjusts to fit the metric bolt sockets on most bikes. The device is half the weight and volume of products currently on the market. And it's not just for bikes — rumour has it that the TeleHex hex key comes in handy when putting together Ikea furniture.
2XL Snocross iOS Game
After conquering Hollywood in the late '90s with his flight simulation software, Rick Baltman (EngSci 9T2) set his sights on making video games, eventually founding 2XL Games. When Apple debuted the iPad in 2010, they used the company's 2XL Snocross to demonstrate the iPad's graphic capabilities. An updated version of the iOS game is available in the App Store for a toonie — the perfect gift for the mobile gamer in your life. 2XL has games available for Android devices, Xbox 360 and PlayStation 3.
By Engineering Strategic Communications