Deep freeze, then quick thaw could mean more potholes, water main breaks, city warns
Extreme cold has already caused 120 water main breaks since Dec. 28, city says
Kirthana Sasitharan, CBC News  (
January 06, 2018)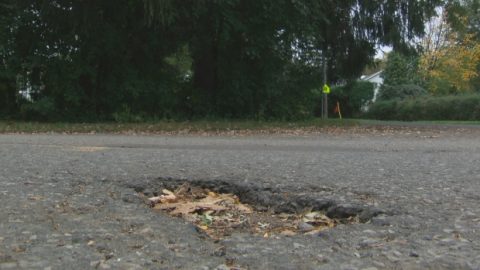 Toronto's rollercoaster temperature ride this weekend, with a deep freeze giving way to milder weather by Sunday, could mean more potholes, more water main breaks and more problems with pipes, the city warns.
On Saturday, there will be a high of -16 C. Into Saturday night, temperatures are expected to hit a low of – 21 C.
By Sunday, however, temperatures begin to warm up to a high of -5 C with flurries and by Monday, there's a high of 1 C in the forecast, and it's that combination of freezing and rapid warming that is going to put pressure on the city's infrastructure, experts say.
More water main breaks this year
Bill Shey, director of Distribution and Collection for Toronto Water, says when temperatures get this cold, there is a rise in the number of water main breaks. Shey says since Dec. 28, around the time of the cold alert for Toronto, there's been a big jump in the number of water main breaks and calls for frozen water pipes.
"We've had about 120 water main breaks. That compares to last year … we had 17." said Shey."We've had about 250 frozen [pipe] service calls, and last year … we only had about 20."
Shey says temperatures like these cause the ground to freeze up and the pipes to break. Any sort of exposed water pipes in people's homes start to freeze.
He says when the weather begins to change from extreme cold to warmer temperatures, it can make situations "unpredictable."
"It can be very difficult, as evidenced by this recent [surge] of water main breaks," said Shey. "Even a gradual freeze causes breaks, but this sort of sudden freeze and then warmer weather and then a freeze again causes us all sorts of problems."
Shey says the last time the winter was this bad and caused major issues was in 2015, when Toronto Water received approximately 4,000 frozen services calls over February and March.
A spring of potholes ahead
Mark Mills, the city's superintendent for Road Operations, says the sudden changes in temperature are a problem for his department as well.
"We do become a little concerned with roads when we do get a deep, deep freeze," said Mills. "Potholes are more frequent in the spring, after freeze and thaw, so right now I think we're in a freeze pattern. But as soon as that freeze starts to thaw, that's when more potholes will be prevalent on the roads."
Mills says usually the city repairs an average of 190,000 potholes a year, but when the "polar vortex" winter of 2014 hit the city, more than 350,000 potholes had to be repaired. He says it was a result of the colder temperatures that affected the asphalt.
Cycles of expansion and contraction pose issue
University of Toronto engineering professor Doug Perovic agrees that it's the rapid changes in temperatures that will likely cause problems, because asphalt contracts in extreme cold, while water seeps into cracks and expands as it freezes. Then, the asphalt expands as temperatures rise.
"If we stayed at a low temperature all through winter, you actually wouldn't have these cycles in stress that lead to expansion and contraction, which is where the problem is." said Perovic.
"It's that liquid penetration that wreaks the most havoc on materials, which then, if it subsequently freezes, [creates] quite large expansion stresses in the ground."
He says similar problems can extend to furnaces and pipes freezing as well, especially if they are older.
"When we have these cast iron pipes, which is what we have in various parts of the city, they thin down through general corrosion. Their ability to withstand stresses and loads and these temperature changes decreases steadily over time.​"
Reduce the risk at home
Shey says people at home can reduce the risk of water main breaks and frozen pipes.
"Make sure wherever you have exposed pipes you … plug any hole that has any sort of access to outside air coming in."
He says it's important to make sure you insulate properly in and around pipes and try to keep the area warm with a portable heater.
By Kirthana Sasitharan with files from Kari Vierimaa