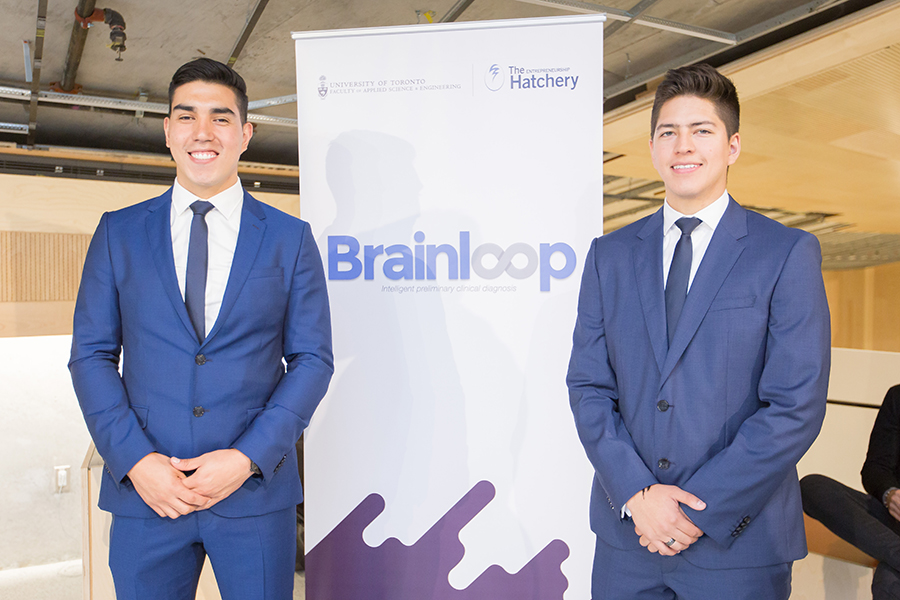 Congratulations to Juan Egas (Year 3 MSE student) and Esteban Arellano (Year 2 Computer Science student) founders of Brainloop! Brainloop received the $2,500 Orozco Prize at the seventh annual Demo Day, hosted by U of T Engineering's Entrepreneurship Hatchery.
Demo Day is the culmination of the Hatchery Nest program, a four-month accelerator that connects student teams with experienced mentors and industry leaders to develop their businesses. Student teams receive detailed feedback on their business plans, explore their proposed markets, learn about patents and marketing, as well as build prototypes using 3D printers and other fabrication resources available at the Myhal Centre.
This year, the top four startups took home a total of $42,500 in seed funding, composed of one $20,000 grand prize and two $10,000 runner-up prizes. Additionally, a $2,500 Orozco prize was awarded through live audience voting via Pheedloop. The Orozco prize is furnished through funds raised by the students.
Held at the Myhal Centre for Engineering Innovation & Entrepreneurship, the Entrepreneurship Hatchery welcomed 14 finalists to pitch their startups to a panel of entrepreneurs, prospective investors and U of T Engineering faculty.
"We started this journey early this year with more than 100 teams applying to the Hatchery. Now we present to you our 14 finalists, who we see as being the next big startups of tomorrow," says Joseph Orozco, executive director of The Entrepreneurship Hatchery.
——————————-
About Brainloop – Brainloop started because of an unfortunate medical error. After experiencing a seizure, a close friend of founders Esteban Arellano (Year 2 Computer Science) and Juan Egas (Year 3 MSE) was misdiagnosed with epilepsy. The drugs she was prescribed were ineffective and had negative side effects, but it was several years before the misdiagnosis was discovered. Upon further research, the team was surprised to find out that this sort of thing happens often — up to 20% of brain disorders are initially misdiagnosed.
"Artificial intelligence is a powerful emerging tool in clinical diagnosis," says Arellano. "It's estimated that 90 per cent of hospitals will adopt it in the next few decades. We wanted to be the first to do it for brain disorders."
Arellano and Egas are developing an artificial intelligence algorithm that can analyze data from tests such as electroencephalograms (EEGs). By detecting anomalies in these tests and correlating them with diagnoses from experts, they aim to create a tool that can provide faster, earlier and more accurate detection of brain disorders, including epilepsy and non-epileptic seizure disorders.
The team is currently working on data collection and analysis with two neurologists from the University Health Network, and hopes to launch the first iteration of their tool in April 2020.