Bill Wallace (MMS 5T6) helps students in memory of his mother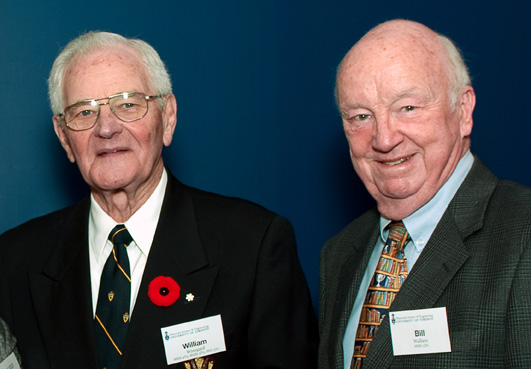 Photo: The Honourable Dr. William C. Winegard (left) and alumnus Bill Wallace (MMS 5T6; right) at the 2010 Winegard Visiting Lectureship
May 3, 2011
William "Bill" Wallace (MMS 5T6) enjoyed his Skule™ days. Before graduating, he received a Golden Key by the Student's Administrative Council in recognition of his contributions to undergraduate life.
Since then, he enjoyed an extensive and rewarding career. From being former Director of companies as diverse as B.F. Goodrich and Fuji Bank Canada, to retired Chairman, President and CEO of DoFasco Inc., his business involvement stretches across all facets. In 1991, he was recognized with an Arbor Award for his outstanding personal service to the U of T community.
Besides investing in his professional life, Bill has generously contributed to the Class of 5T6 Award of Merit and established the Jean Wallace Memorial Scholarship, in honour of his late mother.
The Scholarship provides monetary assistance to one or two students entering first year of Materials Science & Engineering. Academic achievement and demonstrated leadership qualities through both school and community involvement are also factors considered, along with some element of financial need.
Supporting Skule™ through financial contributions comes naturally for him.
"I'm tightly related to my life at University because it was the platform from which my business and volunteer activities grew" said Wallace. Looking back at his University days, he credits his education for giving him many positive experiences.
"I've had the pleasure of meeting Bill a couple of times in the past few years," says Professor Jun Nogami, Chair. "We are privileged to have an alumnus and supporter of our department who has continued to be so engaged with us, both through the Jean Wallace Memorial Scholarship, and his work on our Advisory Board."
Recently, first year Materials Engineering students Ivan Tran (MSE 1T4) and Roy He (MSE 1T4) had lunch with Bill and his wife Joyce at the Faculty Club. Both were 2010/2011 recipients of the Jean Wallace Memorial Scholarship.
"I was enlightened when Mr. Wallace shared his experiences with us," said Ivan, "He's very knowledgeable." Ivan and his parents were thrilled when he received the scholarship and extremely grateful. "Support like this, helps the university attract the best and brightest, and helps them meet their education costs."
---
Please visit www.give.utoronto.ca to find out more about giving to the University of Toronto.