Dr. Hans Schade receives the 2014 Benjamin F. Fairless Award from the Association for Iron & Steel Technology (AIST)
[sharexy]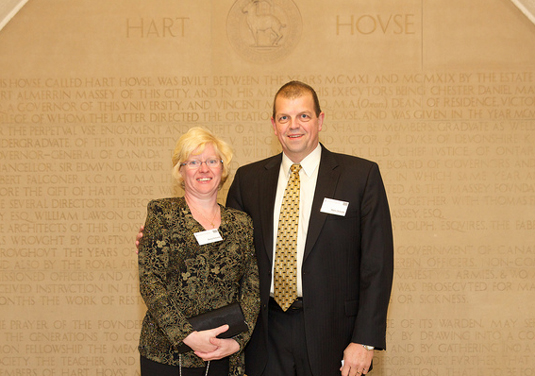 Alumnus Dr. Johannes "Hans" Schade (right) with spouse, Dory, at Hart House for the U of T Materials Science & Engineering Centennial Gala in October 2013
May 7, 2014 
Congratulations to alumnus Dr. Johannes "Hans" Schade (MMS 8T4, MASc 8T6, PhD 9T0) who received the 2014 Benjamin F. Fairless Award from the Association for Iron & Steel Technology (AIST). The award was presented to Dr. Schade on May 6 at AISTech 2014 – the annual Iron & Steel Technology Conference and Exposition held in Cleveland, Ohio, which boasts one of the largest gatherings of materials engineering professionals in the ferrous metallurgy industry from around the globe.
Nominated by his colleagues and peers, the award recognizes Dr. Schade for advancing the knowledge of clean steel technologies in continuous casting. In addition, the award further acknowledges his passion for steel technology, contributions to tundish metallurgy, and his leadership in steelmaking and casting process technology that have had a significant impact on the steel industry.
Dr. Schade is currently the manager of electrical steel technology and the research laboratories at AK Steel Research in Middletown, OH.  Upon the completion of his PhD in metallurgy and materials science from U of T, Schade joined Armco Steel (later AK Steel) as a casting engineer in research.  He progressed quickly through the technical ranks, becoming a principal research engineer, manager of primary process research, manager of specialty products research and most recently manager of electrical steel technology.
Dr. Schade received numerous awards during his career at the University of Toronto and in industry as a researcher, including the Charles W. Briggs Award, two Robert W. Hunt Silver Medals, and the Frank B. McKune Award. He has also authored 21 publications, including two books on casting technology.  He has been an active member of AIST since 1983 and also serves as the AK Steel representative on various AISI committees. Dr. Schade has more than 25 years of industrial experience, including 20 in steel primary processing operations.
"I am delighted to see another one of our alumni recognized with such a prestigious honour," said Professor Uwe Erb, Acting Chair of the U of T Department of Materials Science & Engineering. "This is another testament to the excellence and leadership positions our graduates hold in the field. Congratulations, Hans – your recognition is truly deserving."