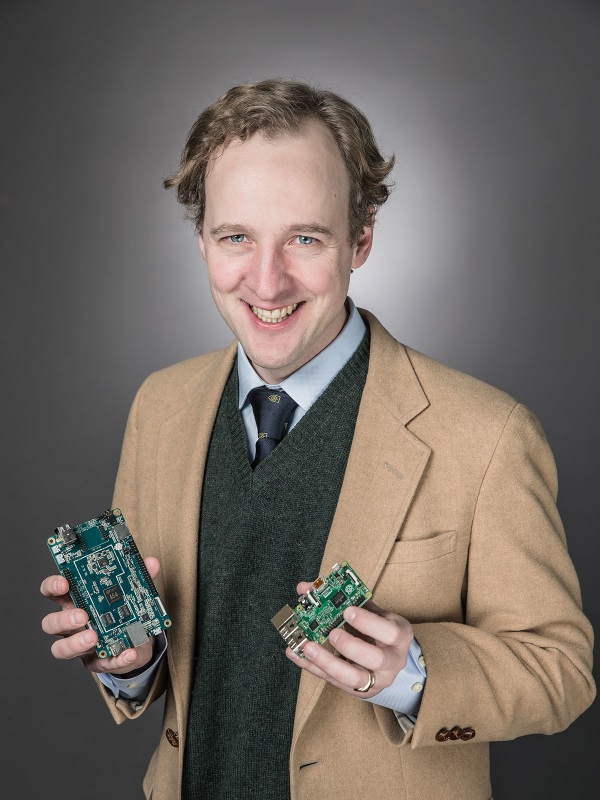 Machine learning and physical chemistry specialist Anatole von Lilienfeld has been named the inaugural holder of the Clark Chair in Advanced Materials at the Vector Institute and the University of Toronto, becoming a pivotal faculty member of the Acceleration Consortium at U of T.
A leading expert in designing novel approaches for rapidly predicting chemical compound behaviour, von Lilienfeld will support the Acceleration Consortium's goal of revolutionizing the field of materials science. Based in the Faculty of Arts & Science in partnership with the Faculty of Applied Science & Engineering and the Division of the Vice-President, Research and Innovation, the Acceleration Consortium is a global coalition of academia, industry, and government that combines artificial intelligence (AI) and robotics to accelerate the design and discovery of materials that do not exist yet.
"I am thrilled to be joining this exceptional community of researchers at the University of Toronto and contribute to the Acceleration Consortium's remarkable commitment to excellence in applying artificial intelligence to the chemical sciences," said von Lilienfeld. "The pursuit to digitize chemistry is grand and requires many team-players, and the Acceleration Consortium is shaping up to become the perfect framework for this effort."
Currently a full professor in the Faculty of Physics at the University of Vienna, and previously associate and assistant professor of physical chemistry at the University of Basel, von Lilienfeld brings expertise in developing and applying machine learning methods that drive the design and discovery of new materials using quantum mechanics, big data, statistical mechanics, and computing.
"Anatole is recognized as one of the visionaries and pioneers for the use of computers to understand the vastness of chemical space," said Alán Aspuru-Guzik, director of the Acceleration Consortium and a professor of chemistry and computer science at U of T. "I am excited that Anatole will be coming here to help build U of T as the global centre of excellence in the area of AI for molecules and materials."
The Clark Chair is made possible through a generous gift from long-time U of T donor Edmund Clark, with additional support from the Faculty of Arts & Science and the Faculty of Applied Science & Engineering. This generous donation from Clark epitomizes his long-standing commitments to both supporting excellence in teaching and research at U of T and recognizing the potential of AI to transform global society in innumerable ways.
"Canadians are looking to the Acceleration Consortium and the Vector Institute to tackle the immense challenges that impact their lives by driving the discovery of new materials for more environmentally friendly products, green energy, and better medicine among other industrial applications," said Clark, board chair of the Vector Institute and former president and CEO of the TD Bank Group. "We're thrilled to welcome Anatole von Lilienfeld in this role as he will be a tremendous asset in supporting the consortium's ability to accomplish that goal."
As founding chair of the Vector Institute, Clark is a passionate advocate for advancing the application of artificial intelligence and improving machine research and development. He has long recognized the need for creating conditions to nurture and attract a critical mass of top AI minds.
"We are grateful to Ed Clark for establishing this chair and continuously investing in education and research," said Melanie Woodin, Dean of the Faculty of Arts & Science. "This realization of his vision demonstrates his commitment towards solidifying Canada's place as a leader in machine learning and deep learning. With Anatole assuming this role, we are only deepening U of T's strength in artificial intelligence-based research across a variety of disciplines."
Von Lilienfeld will play a key role in helping the Acceleration Consortium reach its goal of reducing the time and cost of developing new materials to as little as one year and $1 million, down from 20 years and $100 million.
"Von Lilienfeld brings the promise that we'll be able to think about problems in a new way and develop powerful solutions much more rapidly than through conventional approaches," said Professor Robert Batey, chair of the Department of Chemistry, who played an integral role in attracting von Lilienfeld to U of T. "With his expertise, we'll propose new materials, make them, and test them much more quickly."
Von Lilienfeld's appointment at U of T is shared between the Department of Chemistry in the Faculty of Arts & Science and the Department of Materials Science & Engineering in the Faculty of Applied Science & Engineering. He will also be affiliated with the Department of Physics and a Trinity College Fellow.
"This cross-disciplinary appointment epitomizes knowledge transfer across fields of deep expertise at U of T," said Chris Yip, Dean of the Faculty of Applied Science & Engineering. "The partnership allows faculty members and students from not only Engineering and Arts & Science, but from across the University and beyond, to collaborate and tackle key global challenges."
With this appointment, von Lilienfeld also joins a community of researchers at the Vector Institute as a Vector Faculty Member, providing further opportunities for the exchange of ideas within a group of vibrant and innovative problem-solvers, working across disciplines on both curiosity-driven and applied research in AI.
"I am delighted to welcome Anatole to the Vector Institute and the University of Toronto ecosystem," said Garth Gibson, president and CEO of Vector Institute. "Vector has endeavoured to attract top talent to advance AI research and drive its application, adoption and commercialization. We look forward to collaborating with Anatole and the Acceleration Consortium team in advancing Toronto's stature as a global centre for artificial based research."
The Acceleration Consortium is one of many ventures in U of T's Institutional Strategic Initiatives (ISI) program, a framework that enables the development and sustainability of cross-divisional, interdisciplinary collaborative research networks through partnerships with external industry, community, and philanthropic partners.
"Thanks to the generosity of Ed Clark, and with Anatole assuming the inaugural Chair, U of T increases its capacity to answer some of the most pressing questions in the field of materials discovery," said Christine Allen, U of T's associate vice-president and vice-provost, strategic initiatives. "I am thrilled that we are pushing the envelope and securing U of T's place at the forefront of developing solutions-oriented global research ecosystems."