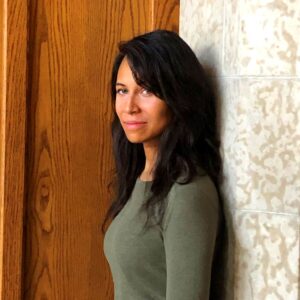 ---
Jacquelyn MacCoon received both her Bachelor of Applied Science (BASc.) and Master of Engineering (M.Eng.) in Materials Science and Engineering from U of T. She is a skilled engineer with a background in failure analysis and material investigation. Jacquelyn's M.Eng. experience within the MSE department involved working closely with Hitachi High Technologies Canada,  after which, she transitioned seamlessly into a full-time role as a product specialist and product engineer at Hitachi.
MacCoon discovered her passion for investigating nonconductive thin films and working with high-end analytical equipment whilst in the MSE department. This experience led her to become a Canadian National Sales Manager for an analytical equipment start-up in the United States. Her thirst for knowledge saw her complete an MBA prior to working for Deloitte. This unique combination of education and skills now finds MacCoon with a branch of the Federal government developing standards for Artificial Intelligence.
Jacquelyn continues to give back to the Faulty of Engineering through mentoring, volunteering and the J.R. MacCoon Footsteps Grant. She credits her education for providing her not only with fundamental knowledge and conceptual understanding of nanotechnology and mechanical behavior of materials, but also preparing her for fascinating technical and non-technical roles across a full spectrum of industries. We caught up with her to hear her opinion of the M.Eng. program.
Tell us about your overall MEng experience.
My MEng journey began in late August of 2013, after completing my Bachelor of Applied Science and Engineering. I decided to take a mix of thesis and regular courses, with three courses related to MSE and the rest through ILead. My thesis project built on my undergraduate work with Prof. Doug Perovic; it focused on failure analysis. During my undergraduate studies, I analyzed the failure of a surgical instrument made of a type of alloy. However, for my graduate thesis, I shifted my focus to analyzing thin films, particularly non-conductive ones, using ion milling for future scanning electron microscope (SEM)investigation.
My interest in SEM began during my Professional Experience Year (PEY) at AMD, where I worked as a physical failure engineer. In this role, I utilized an SEM and various types of testing, including both destructive and non-destructive methods, on physical components such as microchips. This experience laid the foundation for my work in graduate school and beyond; failure analysis is an intriguing combination of engineering problem-solving and sleuthing.
Tell us about your MEng project.
The industries I worked with were in thin film development, with applications in electronic photovoltaics. I worked at the OCCAM labs investigating non-conductive thin films. Specifically, I focused on the aspect of sample preparation techniques, as we found that traditional methods were inadequate. I experimented with ion milling techniques, playing with different settings to find the optimal rate and current to mill the sample without melting it or blurring the layers. Through this experimentation, I was able to optimize the technique and investigate it further using the SEM. Throughout the project, I worked closely with the MSE department, specifically Prof. Doug Perovic'sgroup, and a chemical engineering group at U of T. Additionally, I collaborated extensively with Hitachi High Technologies who provided considerable help with the project; the samples were obtained from their product line and clients.
How did the experiences you gained during the MEng program help you with your career?
My MEng project actually became the first project I worked on as an employee at Hitachi. The position involved using their state-of-the-art equipment in the lab and analyzing samples for their clients. I started by helping the company run samples at the University of Toronto's OCCAM lab, where I was responsible for the instrumentation on which I'd be training others. I focused on investigating fractures and fracture surfaces during sample runs, driven by my interest in failure analysis. Through this work, I gained extensive knowledge of SEMs and other high-end analytical equipment. I had access to multiple Hitachi SEMs, which ultimately lead to a strong relationship with Hitachi, then to receiving my full-time position with them. The knowledge and skills acquired from failure analysis provided me with a lens through which I apply to all situations. Reverse engineering 'failure' is not limited to engineering issues; it is also applicable to the onset projects, because anticipating the 'failure' allows for planning and implementation of a successful outcome.
How did the MEng experience help you build your professional network?
Through working on SEM instrumentation with the high-tech Hitachi team, I continued to follow my love for failure analysis and ultimately landed fascinating technical and non-technical jobs. This experience not only improved my technical skills,but also enabled me to build a strong professional network within U of T and other universities and organizations across Canada.
From the initial skills I developed at Hitachi, I was able to secure a job as the Canadian National Sales Manager for an American analytical equipment start-up. Thereafter, this risk mitigation/failure analysis lens informed my academic and career decisions. My MEng experience helped me build an expansive professional network,  from industry to start-up, consulting to government. MEng instills knowledge, skills and experiences that can take a graduate as far and wide and they desire.