An engineer at heart—In Memoriam: Dr. Walter Curlook (1929–2014)
CM, MMS 5T0, MASc 5T1, PhD 5T3, DEng, DSc, FCAE, PEng
By Cynthia MacDonald | Photos courtesy of the Curlook family
Originally published in the Spring 2015 issue of U of T Magazine
[sharexy]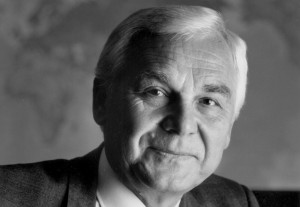 Nickel is a metal that's both strong and remarkably versatile. These two qualities also describe Walter Curlook—an engineer, executive, community leader and teacher—whose extraordinary career was forged not just in and around the nickel mines of his native Sudbury, but in work that took him around the world.
Curlook, who passed away last October 3 at the age of 85, first sought part-time work in his teens for the company that would eventually be known as INCO Ltd. After earning his PhD in metallurgical engineering at U of T, he returned to INCO and rose meteorically through its ranks: from research metallurgist to top executive, overseeing operations in Canada and abroad.
"He was an executive, but he also got right down in the labs and contributed directly to technical development."
His forward-thinking advancements in productivity, processing and environmental safety vastly improved INCO's operations at a time when it stood atop the world in nickel production. Curlook himself invented more than a dozen process patents related to metals production: even at the highest administrative level, he remained an engineer at heart.
"He was an executive, but he also got right down in the labs and contributed directly to technical development," says Professor Doug Perovic. "He insisted on staying close and keeping his ear to the ground—he just worked so hard."
Late in the twentieth century, the environmental impact of mining assumed an importance it never had back in Curlook's youth. "Under his leadership, INCO was always progressive in that area," says Associate Professor Mansoor Barati. "They were on the frontier in making changes that improved environmental conditions." The most significant of these was a $600 million sulphur dioxide abatement program, completed in 1993 and described as the largest environmental project ever completed by the industry.
A young Walter Curlook conducting research at
U of T circa 1950s
Curlook's Ukrainian immigrant father—who worked in the mines himself—instilled a love of continuing education in his son. The vast array of initiatives Curlook supported is testament to this. Among many others, he was founding Chairman of Sudbury's Cambrian College Board of Governors, and was a driving force behind SNOLAB. This former mine site was converted into one of the world's best neutrino detectors in order to answer fundamental questions about the universe.
Above all, he never forgot the University of Toronto. "I connected initially with Walter in the 1990s, when our department was in a lot of trouble," says Perovic, who convened a board of supporters that not only saved the department, but helped strengthen and secure its status during his two terms as Chair. "Walter was in that group, and he was a leader among leaders."
After retiring from INCO in 1997, Curlook was appointed to the department as Distinguished Adjunct Professor. In this role, he brought invaluable real-world expertise to students. "He wanted them to be well-rounded," Perovic says. "Particularly in connecting metal refinement and production to the financial side of how companies operate."
Curlook left a lasting legacy for the department in 2013—a gift that provided modern tools for researchers and students alike—through the Walter Curlook Materials Characterization & Processing Laboratories in the Wallberg Building.
Curlook was justifiably honoured with many awards. In addition to two honorary doctorates, he was named a Member of the Order of Canada in 1996, and inducted into the Canadian Mining Hall of Fame the following year.
"Pit bull" is the affectionate term that comes to Perovic's mind now, when he thinks of Curlook. "He was the most loving, bighearted person you could meet," he says, "but is passion, spirit and energy were boundless, and that could be intimidating. He always wanted to do better—and he expected that of others as well."
---
Enjoyed Impact? Complete a readership survey for a chance to win an exclusive U of T MSE prize pack.