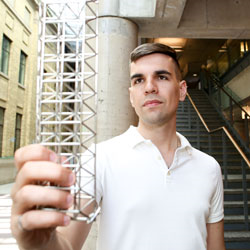 Dr. Ante Lausic | EngSci 1T0 and MSE PhD 1T6
Senior Process Engineer, General Motors (GM)
Ante Lausic is a Sr. Process Engineer at General Motors' new Additive Industrialization Center in Warren, MI. His focus is on developing and deploying metal additive technologies across the wider GM network. His work also centers on the development and production of metal additive components in the tooling, pre-production, and prototype design stages.
Prior to this, he spent 3 years at Exco Engineering in Newmarket, Ontario as an Additive Manufacturing Engineer working on conformally cooled die cast tooling inserts manufactured with the largest tool steel printers in the world. What started as a R&D role quickly grew to include thermal and AM simulation, tooling design, and project management across the North American high pressure die casting market. In 2019, he was recognized with a PACE award by Automotive News in Automotive Supplier Innovation for a manufacturing strategy to repurpose worn tooling components with a hybrid additive technique.
He is a member of Canada's ISO TC 261 delegation for standardization in the field of additive manufacturing as well as leading the NADCA sub-group on developing standards for additive manufacturing in the die casting industry.
Ante is an EngSci 1T0 and MSE PhD 1T6. His doctoral thesis, co-supervised by Professor Glenn Hibbard (MSE) and Professor Craig Steeves (UTIAS), combined 3D printing with the high strength of nanocrystalline materials. The goal was to create new fabrication processes for ultra-lightweight materials that will power the next generation of aerospace structures and enable greener transportation.
During his time as a doctoral candidate, his passion for teaching gave him the opportunity to develop and lead five years of DEEP courses covering Engineering Math, Electron Microscopy, and 3D Printing. This was in addition to 3,000+ hours of teaching experience across Engineering Design, Engineering Computation, Nanomaterial Synthesis, and Adv. Prop. of Nanomaterials. He was identified as one of the "Graduates to Watch: 16 global engineering leaders" in June 2016.