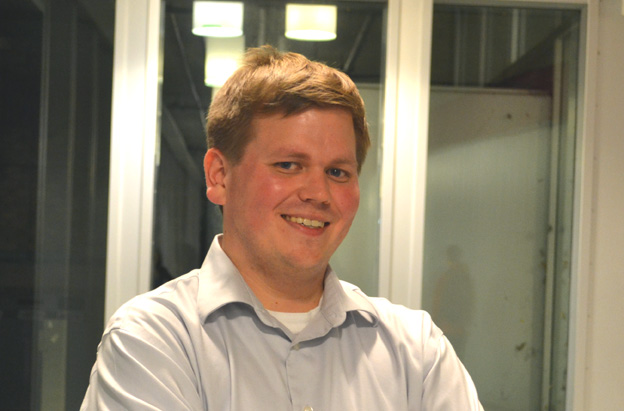 Kirk Holz | MSE 0T5+PEY, MEM, PEng
Senior Process Engineer, Vale Canada
Member, Skule™ Society (2014)
Chair, Material Advantage Student Chapter (2004-2006)
Alumnus Kirk Holz is a senior process engineer with Vale Canada. His current role involves the development of energy and mass balances for projects of various complexities in different stages of development within the Base Metals business. Additionally, Kirk has been involved in process ledger data analysis, financial model analysis, and managing conceptual-level feasibility and strategic studies.
Prior to his current role, Kirk was extensively involved in the design and development of Vale's Long Harbour Project – a multi-billion dollar nickel processing facility in Newfoundland that reached its start-up phase in 2014. From 2006 to 2012, he served in two positions on this project, first as a process engineer and then as a commissioning engineer (which included a one-year secondment to a mechanical engineering role). During this time, Kirk worked in a multi-disciplinary project setting and was involved with engineering design, risk management, commissioning planning, procurement package engineering, and metallurgical simulation.
Through his course of employment with Vale Canada, Kirk has worked in St. John's, Newfoundland, Belo Horizonte, Brazil, Vancouver, British Columbia, and now in Mississauga, Ontario.
Before joining Vale full-time in 2006, Kirk completed his Professional Experience Year (PEY) at Inco Technical Services as a process evaluation and development intern. He has also worked as a signal operator and detachment commander in the Canadian Forces, leading groups of signal operators in providing communication for combat arms units in both large and small exercise environments.
As a student at U of T, Kirk was heavily involved with the Material Advantage Student Chapter, which he chaired from 2004-2006, organizing conference trips to TMS 2005 in San Francisco and CIM 2006 in Vancouver. During this time, he also co-organized the MSE Student-Industry Mixers and led a team to produce a winning proposal for the ASM Material Education Foundation Grant in 2006. Kirk also wrote articles for The Cannon newspaper and took photographs for various Skule™ publications on a freelance basis. Today, Kirk continues to be a devoted and dedicated U of T Engineering alumnus and supports his Alma Mater at the Skule™ Society tier.
Kirk received his Bachelor of Applied Science (BASc) in Materials Engineering from U of T in 2006 and completed his Master of Engineering Management (MEM) at Memorial University of Newfoundland in 2014. He is a licensed professional engineer (PEng) in the Canadian provinces of Ontario and Newfoundland & Labrador.