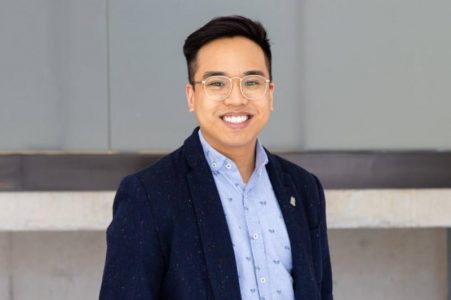 Phil De Luna | PhD 1T8
Director, National Research Council, Materials for Clean Fuels Challenge Program
Phil De Luna is currently Program Director, Materials for Clean Fuels Challenge program at the National Research Council Canada (NRC). He is leading a $57M multi-disciplinary program to develop innovative Canada-made clean energy materials that lower GHG emissions.
"We need fundamentally new energy technologies to address hard-to-abate sectors such as industry and transportation which are difficult or impossible to electrify alone. Retrofitable technologies like carbon capture, utilization, and storage (CCUS) and hydrogen offer a clean energy destination for much of energy industry to transition to."
He has published +30 papers in high-impact journals such as Nature, Science, Nature Chemistry, Nature Catalysis, and more. His research has been featured in mainstream media such as CBC, Newsweek, The Independent, VICE, and others. De Luna is a 2020-2021 Action Canada Fellow – Canada's top accelerator for policy leaders. He is also an NSERC Canada Graduate Scholar, a Massey College Junior Fellow, a Mission Innovation advisor for NRC, and a CIFAR Bio-Inspired Solar Energy Graduate Fellow. He has held competitive research internships at IBM Research Center in New York, Toyota Research Institute in Silicon Valley, and was a visiting researcher at University of California, Berkeley, and Stanford University. De Luna was named to the 2019 Forbes Top 30 Under 30 – Energy list, a GreenBiz Top 30 Under 30 and a Governor General's Gold Medalist.
Phil received his PhD specializing in nanostructured electrocatalysts for CO2 Conversion under the supervision of Prof. Edward Sargent in 2019.