Feb
1
Thu
MSE Industry Day 2018

@ Hart House, Music Room
Feb 1 @ 12:00 pm – 4:00 pm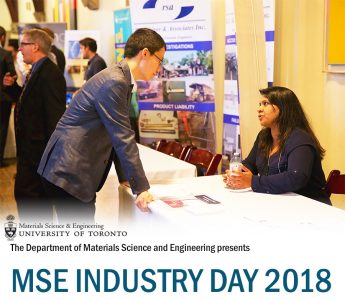 12:00-2:00pm – Industry Day
2:30-4:00pm – Career Panel and Networking Session
MSE students are invited to meet with industry representatives to learn about careers and career paths. Companies attending are:
Celestica
CEP Forensic Inc.
Collision Sciences
EcoSynthetix Inc.
IPEX
Professional Engineers Ontario
Ontario Ministry of Transportation
OTI Lumionics Inc.
Our Career Panel will feature alumni from 30 Forensic Engineering, CEP Forensic Inc. and EcoSynthetix Inc.
Feb
22
Thu
Graduate Research Days 2018

@ Department of Material Science and Engineering, U of T
Passionate about materials science and engineering research? Considering a master's or doctoral degree in materials science and engineering?
Graduate Research Days 2018 is your opportunity to get a first-hand look at what U of T Engineering can offer potential MASc or PhD students.  Apply today for an expenses-paid trip to Toronto from February 22-24, 2018 for this exclusive opportunity to meet our world-renowned faculty, alumni, students and admissions staff.  Deadline to apply is January 12, 2018.

Questions?
Maria Fryman, Graduate Program Counsellor & Administrator
+1 416 978-1374 | mse.grad@utoronto.ca
Kendra Hunter, External Relations  & Communications Officer (Acting)
+1 416 946-3211 | kendra.hunter@utoronto.ca