Just The Facts Panel: Canada's Green Energy Infrastructure Programs
May 6, 2021 @ 6:00 am

-

8:00 pm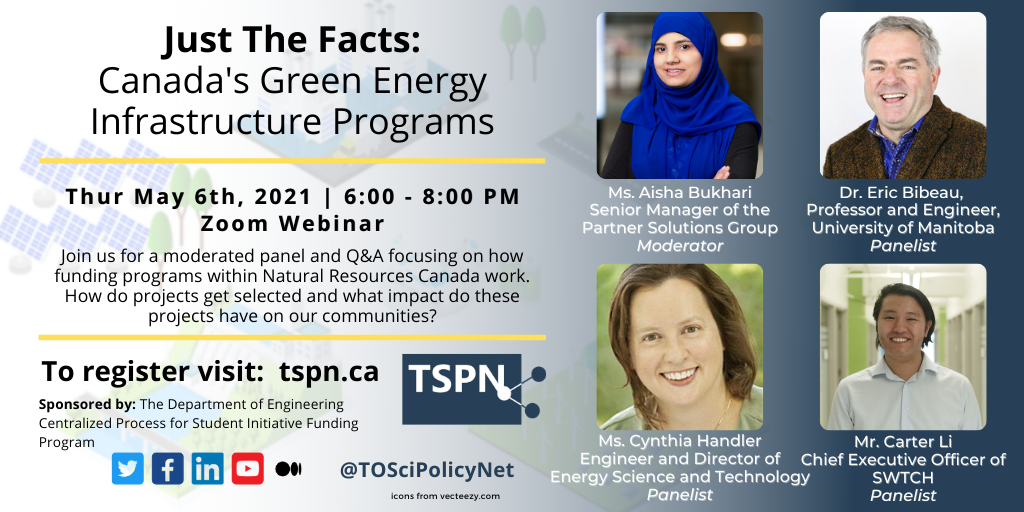 he Toronto Science Policy Network is hosting a #JustTheFacts public panel focusing on Canada's Green Energy Infrastructure Programs. In this panel we explore how funding programs within the Natural Resources Canada (NRCan) work, the involvement of stakeholder communities, and the relationship between industry and academic partners. How do projects get selected and what impact do these projects have on our communities?
To answer these questions, TSPN has brought together various stakeholders (NRCan, industry and academia) to share their perspectives on these programs. With this panel we are aiming to create the space for a meaningful dialogue on how academic, private and public sectors can continue to work together to make evidence-informed decisions on clear energy policies and regulations to help grow Canada's energy system. We are excited to be hosting  Dr. Eric Bibeau from the University of Manitoba, Cynthia Handler from the Office of Energy Research and Development at NRCan, and Carter Li, the Chief Executive Officer at SWTCH with moderation by Aisha Bukhari with the Partner Solutions Group at MaRS. The Panel will include a moderated discussion as well as a live Q&A. Join us on May 6th, 2021 from 6:00-8:00 PM EST.
Everyone is welcome to attend  — regardless of whether you are currently a student, working, or anywhere in between. No previous expertise required! Please register here.