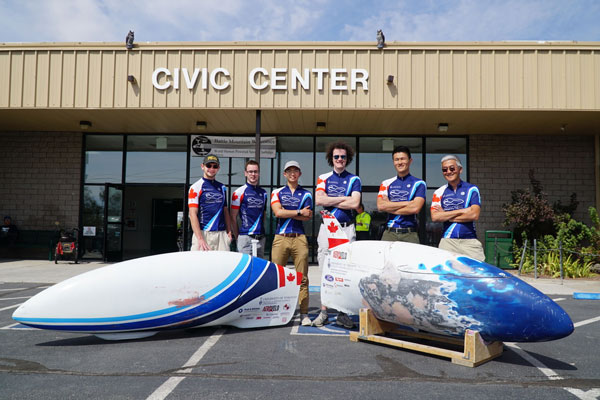 U of T Engineering's Human-Powered Vehicle Design Team (HPVDT) has won the 2017 World Human Powered Speed Challenge. Their recumbent bicycle, named Eta Prime, was clocked at an impressive 127.6 kilometres per hour, the fastest in this year's competition.
Eta Prime's design is modelled on Eta, the vehicle that currently holds the record for the world's fastest bicycle at 144.17 km/h. Eta was built by AeroVelo, a company founded by U of T Engineering alumni Todd Reichert (EngSci 0T5, UTIAS PhD 1T1) and Cameron Robertson(EngSci 0T8, UTIAS MASc 0T9).
Eta, which did not race at this year's competition, was the result of a long-standing collaboration between AeroVelo and HPVDT, so was only natural that the team build on this expertise to create their next vehicle: they used Eta's molds to cast Eta Prime's carbon-fibre shell.
"Within a millimetre or two, it has exactly the same shape," said Calvin Moes (MSE PhD candidate), Eta Prime's pilot and captain of the Human-Powered Vehicle Development Team. "As far as we know, it is the best shape for a single-person speedbike in the world."
Still, there were aspects of Eta that Moes and his teammates felt could be improved. They overhauled the carbon-fibre frame that holds up the vehicle and redesigned both the rear wheel and braking system. Through a combination of innovations, they were able to create a bike that was 20 per cent lighter than Eta, while maintaining its internal strength.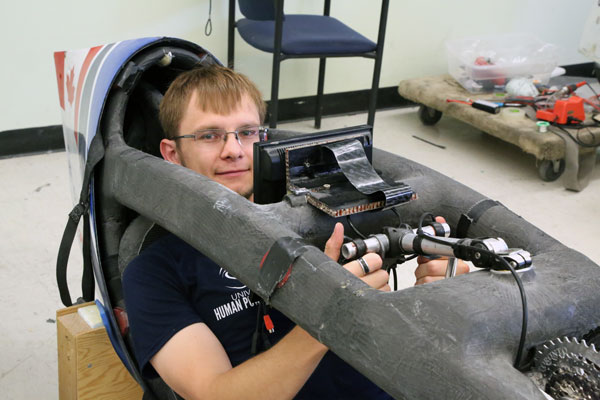 But as with any speedbike, much depends on the engine — that is, the rider. "You can build the best bike in the world, but if you can't produce the energy to get it up to speed, you're not going to get there," said Moes.
To provide this power, many of the approximately one dozen teams in the World Human Powered Speed Challenge hire semi-professional cyclists. HPVDT does not, though Moes did undergo extensive training. Over the last eight months, he said he's managed to reduce the gap in power output between himself and Reichert, Eta's rider, by about half.
"The fact that we reach the same speeds as the other teams, and in some cases, even surpass them, on significantly less power than their riders can produce is remarkable," said Moes. "It speaks to the amount of engineering that went into this design."
MSE Professor and Chair Jun Nogami is the team's faculty advisor and travelled with them to Battle Mountain to act as a timekeeper.
"It is incredibly valuable for students to participate in design teams, and then to appear at international competitions," said Nogami. "I'm proud of the way the team pushed through adversity to finish with the overall title. Congratulations to Calvin, who is the fastest person in the world for this year!"
Though the competition was intense, Moes said the atmosphere at Battle Mountain is friendly.
"That's actually one of the best parts of the event," he said. "We interface with the local community, and display our bikes to students in local schools. Teams will go and talk to each other, and inspect what new design features each bike has. It's wonderful to be part of this elite group of racers, and learn from experiences that we wouldn't get anywhere else."
September 18, 2017 | By: Tyler Irving