Huang and his team are studying nanomaterials with unconventional optical properties that could be used in cancer diagnosis or therapy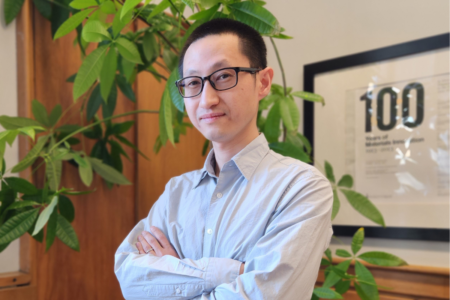 Dr. Kai Huang has joined the Department of Materials Science & Engineering (MSE) as an Assistant Professor.
He works at the intersection of materials science and biomedical research, and he is particularly interested in exploring novel nanomaterials with unconventional optical properties which serve as nanoprobes or nanotransducers for cancer diagnosis and therapy.
Huang received his bachelor's degree in Materials Chemistry from the University of Science and Technology of China. He later moved to Singapore to earn his Ph.D. in Biomedical Engineering at the National University of Singapore. After completing his Ph.D., Dr. Huang pursued further training as a postdoctoral researcher at the University of Massachusetts' Chan Medical School.
External Relations Liaison & Communications Officer Sherry Esfahani caught up with Huang to learn more about his plans for the next few years.
Why did you decide to join MSE at U of T Engineering?
The MSE department at U of T Engineering is home to talented scientists across a broad range of materials research topics. As an interdisciplinary researcher, I have a strong desire for collaborations, and working with such a talented group of colleagues will expand my knowledge and inspire new research ideas.
The department is also equipped with state-of-the-art instruments that are essential for both research and education in materials science. With easy access to equipment for nanocrystal preparation, characterization, and novel application design, I am confident that this environment will provide a strong foundation for my career.
Also, both my family and I appreciate Toronto's diverse and inclusive culture. During our first visit, we were impressed by the city's welcoming environment, where immigrants make up half of the population and contribute their valuable ideas and hard work to a thriving society.
We also enjoy the nice and quiet neighborhood community in the city, which connects us with modern research and, in the meantime, allows us pleasant family life.
What is the focus of your research?
I conduct cross-disciplinary research aimed at developing nanomaterials with unconventional optical properties for innovative biomedical applications.
Biophotonic technologies can be useful in the diagnosis and treatment of diseases. However at the moment, they are constrained by the need for short-wavelength excitation, which requires invasive light delivery systems and causes autofluorescence noise undermining the imaging quality.
To overcome the limitations in conventional biophotonics, we are developing novel luminescent nanomaterials with anti-Stokes shift upconversion luminescence or superlong lifetime persistent luminescence.These nanomaterials will bring deep tissue-penetrating near-infrared (NIR) light for wireless NIR-optogenetic cancer immunotherapy or enable ultrasensitive bioimaging without the need for time-gating, respectively.
Our research not only holds the potential to revolutionize biophotonic tools for biomedical research and clinical applications, but also provides an opportunity to deepen our understanding of photophysics by discovering new phenomena, such as superfluorescence at room temperature from nanocrystals.
We know you have exciting project opportunities for MEng students. Tell us an examples of some of these projects.
I am passionate about the direction the MSE department is taking by incorporating practical challenges into its courses. I believe the best way to learn new knowledge is by applying the knowledge to solve some real problems. This is why I am excited to involve students in novel projects in the lab.
For instance, we are currently working with groups of students on developing a novel synthetic strategy for persistent luminescence nanocrystals, which possess fascinating luminescent properties but require time- and energy-consuming preparations. In this student project, we aim to propose a new synthetic approach that would be approximately 20 times more efficient. This would be a significant contribution to the field and provide valuable insights for our peer materials scientists.
Similarly, in our future projects, we will continue to focus on problem-based research by taking advantage of our learned knowledge, unique expertise, and advanced resources in the department. Also, we will integrate experimental materials science with advanced computational methods, which is a major growing trend in materials science and engineering.
How would you describe your teaching philosophy and what do you hope people will take away from your classes?
As a teacher, I strongly believe in fostering a curious, inquisitive, and hands-on learning environment. I firmly believe that learning-by-doing is the most effective way to gain practical knowledge, and I aim to instill this philosophy in my students. By providing hands-on experience and real-world examples, I aim to make complex topics accessible and engaging, while encouraging students to ask questions and explore their own interests.
Another key component of my teaching philosophy is to emphasize the development of scientific thinking and problem-solving abilities. By fostering critical thinking and providing opportunities for independent problem solving, I hope that students will gain a deeper understanding of course material and the confidence to apply their newfound knowledge to new challenges.
My goal is for students to leave my classes with a love for learning and a deep appreciation for science and technology, in and beyond the field of materials. Whether they go on to careers in these fields or not, I believe that everyone can benefit from a foundational understanding of science and an ability to think critically and solve problems.
What are three things that students should know about you?
As a materials scientist, my passion for preparing nanoparticles in the lab is paralleled by my love for cooking in my daily life. I believe that both require a certain level of precision, patience, and creativity to create something unique and special.
This love for hands-on work has translated into my teaching philosophy where I encourage students to learn by doing. I believe that students will gain the most knowledge when they are actively engaged in the material and given the opportunity to experiment and explore on their own.
In addition to being an independent researcher, I am also a team player who values collaboration and the opportunity to learn from others. This mindset has led me to pursue interdisciplinary projects and collaborate with researchers from diverse fields. I believe that by working together, we can achieve more than we can individually.
Outside of work, I enjoy sports such as swimming, badminton, and ping-pong ball. I find these activities to be a great way to relax and stay in shape, both physically and mentally. I am also a fan of a game called Age of Empires and have been playing it for more than 10 years. I believe that these hobbies help to balance my life and bring me joy and relaxation.