Left to right: Calvin Moes (MSE PhD candidate), Luke Patterson (Mech 1T9+PEY), Team Captain Bill Kong (Math & Physics 1T9), Josh Madero (Mech 2T0) and Rena Nakajima (Track One 2T2).
The University of Toronto human powered vehicle design team (HPVDT) cleaned up at the ASME Human Powered Vehicle Challenge (HPVC) which was held this past weekend at Michigan State University. They finished 2nd overall in a field of 50 teams, falling just one point out of first place.
Unlike the enclosed recumbent vehicles that they have built in the past, this year the team tried a new configuration with a partially faired upright bicycle. With the evolution of the HPVC dynamic  events away from top speed and towards acceleration and maneuverability, this configuration has many advantages and was deemed the most likely to succeed. Their strategy paid off as they  placed first in both men's and women's sprints, as well as the two and a half hour endurance race where they finished seven laps ahead of their closest competitors.
The men's sprints were particularly exciting, with Calvin Moes beating a streamliner from the University of Akron in two consecutive races by a combined margin of about 15 centimeters.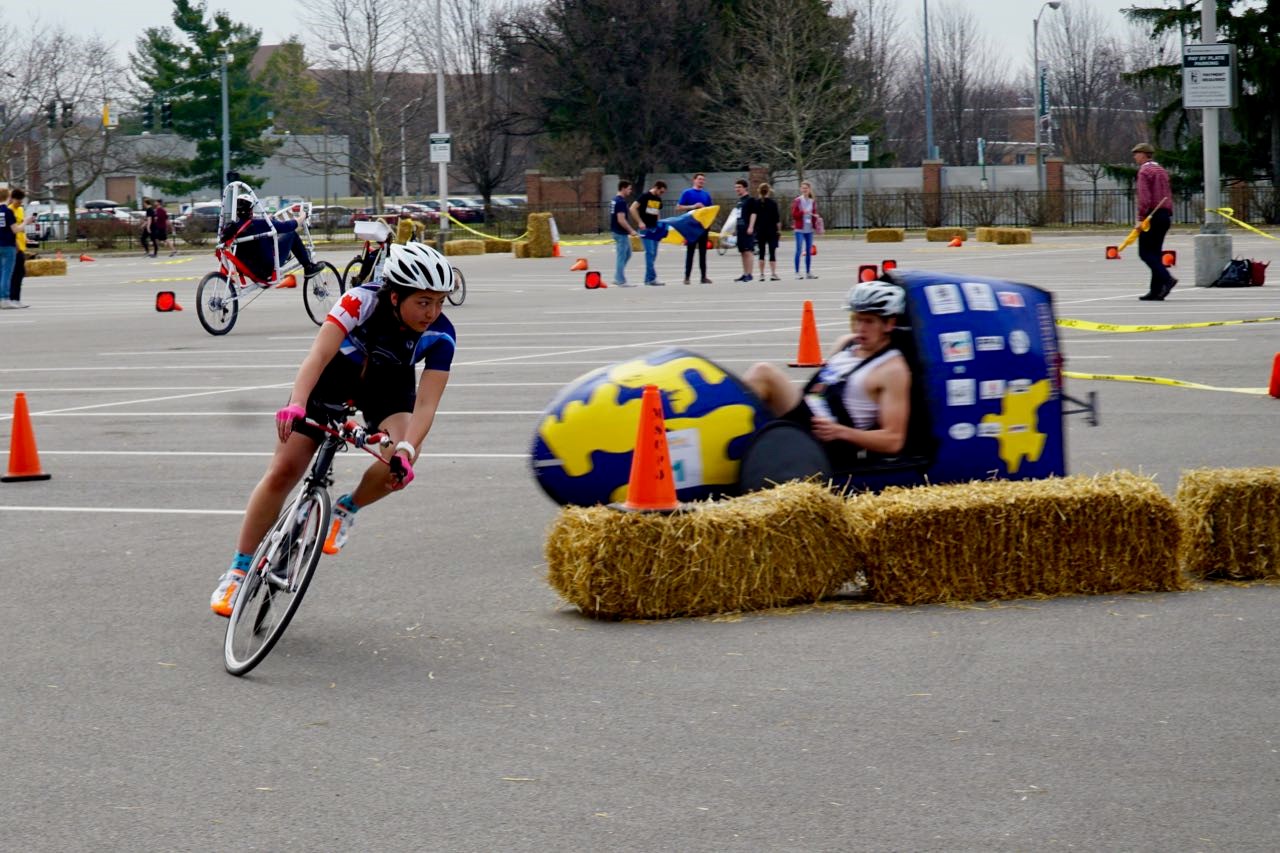 Rena in traffic during the endurance race.
"There were a lot of excellent athletes and innovative vehicle designs at the HPVC competition this year, but the simplicity, reliability, and low weight of our entry proved to be the decisive factors",  said team member Calvin Moes.  "I think our team – and many of the others at the event – learned an important lesson about designing for the real requirements of a situation, even if that means your solution appears less high-tech. In the end, the important thing is to be effective and efficient; that's what we did."
Team captain Bill Kong adds: "History is a good teacher and optimizer. Over one hundred years and billions of people  have strongly converged upon the upright bicycle as the most useful human powered vehicle. It's good to think outside the box for solutions but first one must understand what the box is like and why it exists."
See Prof. Nogami's blog post about Day 2 and Day 3 of the competition.
Congratulations !