Congratulation to MSE's Class of 1T8 and 1T7 PEY Co-op!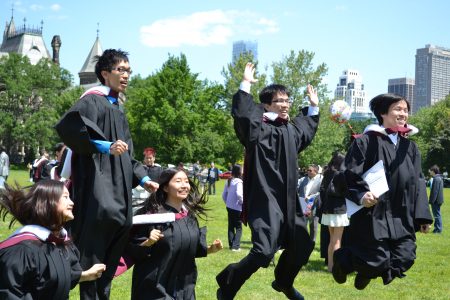 On June 19, 2018 MSE's graduating class will cross the stage at Convocation Hall.  To help usher them into MSE's alumni network, we are asking our valued alumni to share a note of congratulations, graduation/career advice or pictures from your own convocation.  If you would like to share a photo, please email Kendra Hunter at kendra.hunter@utoronto.ca
ALUMNI WHO WISH TO POST A MESSAGE OF CONGRATS:  Please include your grad year in the "Name" field so we know who you are. Fields marked with * are required.  Your E-mail address won't be published but the administrator may use it to contact you, if needed.  Your entry will only be visible in the guestbook after we have reviewed it.  We reserve the right to delete or not publish entries.
CLICK AND TYPE HERE
4 entries.
Congratulations 1T8 and 1T7+PEY! It was my pleasure to have taught all of you in third year - thank you for being such a great group of students to teach. Best of luck with everything!!
Congratulation for works well done!! Looks like it will be hot during convocation this year but hopefully not as hot as the year I graduated. Or did the install AC in Convocation Hall?
Congrats and best of luck to the MSE Class of 1T8 and 1T7 PEY Co-op!
On behalf of the Department of Materials Science & Engineering, please accept my sincere congratulations to you, the MSE class of 1T8 and 1T7+PEY, on the successful completion of your undergraduate degrees. You have worked hard, and you should be proud that you have graduated from one of the leading MSE departments in North America. Your education in MSE will provide a solid technical background for whatever career path you choose to pursue. Equally important, I hope that the experiences that you have had and the friendships you have made during your time with us will remain with you throughout your future professional and personal lives. Please stay in touch, let us know how you are doing, and share your stories of success. We also look to you to serve as future ambassadors for MSE, the Faculty of Applied Science and Engineering, and the University of Toronto. Congratulations to you again, MSE class of 1T8 and 1T7+PEY, and I wish you every success in the future. Sincerely,